Filmed entirely on location in the US, 'John Connors' America' is a two-part series on race relations exploring the reality of discrimination, poverty and violence in African American & Native American communities.
Ahead of episode 2: 'Native Americans' which will air on RTÉ 2 Monday 23rd January at 10.30pm. IFTN spoke with John about his time filming on the Native American reservation in Pine Ridge, South Dakota and what he took away from the experience and being immersed into their culture.
John said: "Although the pine ridge reservation in South Dakota has many problems, the people there suffer from poverty and there is a huge problem with alcohol and drugs. The place was still beautiful and the people like no other you'll ever meet. They would be the types to take their coat off their back."
While on the Pine Ridge reservation John took part in ancient Native American rituals, like sweat lodge ceremonies. He also found out about the efforts to preserve Native American culture, like bare-back horse relays and the Lakota language.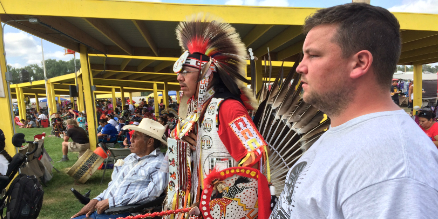 "I was honoured to be asked to do a sweat lodge by the great activist Milo Yellow hair. It was an intense but spiritual experience I'll never forget. They were very similar to my own people. Traditionally nomadic, they move in groups. Ride horses bare back. They are also trying to hold on to their language and culture. Basically they're survivors," John said.
On the reservation John delves into the background of addiction, alcoholism and poverty in Native American communities. He sees how younger Native Americans are expressing their feelings of discrimination and isolation through Hip Hop and rap, he sees parallels between these young men and the teenagers he mentors himself back home.
As an actor known for his TV roles in 'Love/Hate' as well as films 'King of the Travellers ' & 'Breathe' John also works passionately as an activist. He knows exactly what it's like to be part of a minority community and what it feels like to face discrimination in his own country. For years John has been fascinated by the parallels between Travellers in Ireland and Native American communities across the US.
The two part documentary John Connors' America was filmed & directed by Kim Bartley, edited by Paul Mullen, produced by Aoife Kavanagh, with Colm O'Meara on sound.
John Connors' America airs on RTÉ 2 Monday 23rd January at 10.30pm.