Background:


Digital Skills Training has been delivered by Kerry ETB across three training units in its National Digital Skills Centre since 1987. Year long practical skills courses in Media Production are available in TV & Video production, Digital Media Production and Radio Broadcasting. Together the programmes are considered the market leader in practical digital skills based training, utilising the latest and most up to date technology.

The real-world production training gives trainees an opportunity to develop their professional and interpersonal skills.. This approach has been the successful blueprint, which we have found gives our trainees the complete production training experience. One of the strengths of the course is the trainee/equipment ratio. The National Digital Skills Centre has very strong links with industry by providing them with trainees who have a high level of personal and skills competency and understands the language of the business. The National Digital Skills Centre provides Screen Training Ireland (IFB) with knowledge and expertise in the organization and running of a variety of industry workshops.

If you are interested in a career in TV/Video Production Digital Media Production, Radio Broadcasting, obtaining practical skills and securing an internationally recognised qualification, for an application form contact:

Lynda O Donnell
The National Digital Skills Centre ( Kerry ETB Training Centre )
+353 (0) 66 7126444
Email: training@kerryetbtrainingcentre.ie
Facebook: Kerry ETB Training Centre



Courses:

Digital Media Production


This Digital Media Production course will provide you with the opportunity to learn and develop real-world production skills in a broad range of media disciplines.

The content of the course covers design, digital imaging, photography, sound, video, digital publishing and media project management.

The emphasis is always on project-led, hands-on practical training. While you will learn the theoretical elements of media production in a classroom environment, the majority of your time will be spent developing practical skills while undertaking an extensive range of project work. You will often work as part of a production team and regularly produce media content to a deadline for real-world clients. Undertaking these media projects will also allow you build an extensive portfolio of work. As this body of work develops, it becomes compelling evidence of your abilities and practical skills and proves hugely valuable when looking for work.

Today's world is a digital world, in which every individual, company and organisation has an increasing need to generate compelling media content to enable them to engage across a variety of digital platforms. This course will provide you with the skills that you need to generate this content professionally. These skills and abilities will in turn present you with a variety of opportunities and career path choices.

Content:
Induction & Safety
Graphic Design
Digital Photography
Digital Image Manipulation
Digital Video Production
Digital Sound
Digital Publishing
Communications
Practical Project Work
Career Planning & Job Seeking Skills
In-Company Placement


Certification:
City & Guilds | L3 Diploma | Digital Media Production
Location:
Kerry ETB Training Centre, Tralee, Co. Kerry
Duration:
52 weeks
Allowances:
Training allowances payable, where applicable
Start Date:
September 2017
Ref Code:
TRY 18
Applications:
To apply contact the Kerry ETB Training Centre, Tralee, Co. Kerry
Contact:
Linda: (066)7149638 or KETBTC: 066 7149600 or email: training@kerryetbtrainingcentre.ie



Broadcast / TV Production Skills

This course has been designed to provide the audio visual industries with personnel who are skilled in Television, Digital Cinema & new generation platform production techniques. The aim of the course is to provide learners with real life projects in which they can hone their practical skills and enhance their related knowledge in research, client negations, script writing, location and studio work, editing and media distribution while developing their attitudes with a view to obtaining employment in the Television & Digital Cinema industries.

The course is structured into the three phases of production:
Pre-Production : Budgeting, Planning, logistics, Script writing etc
Production : Single/Multi Location/Studio Camera operations, Audio, Grip etc
Post-Production : Editing, Grading, Motion Graphics, Visual FX, Distribution etc
Certification: City & Guilds | Additional Industry Certification
Location: The National Digital Skills Centre, Kerry ETB Training Centre, Tralee, Co. Kerry
Duration: 52 weeks
Allowances: Training allowances payable, where applicable
Start Date: Summer 2017
Ref Code: TRY 20
Applications: To apply contact the The National Digital Skills Centre, (Kerry ETB Training Centre), Tralee, Co. Kerry
Contact: Linda (066) 7149638 or KETBTC (066) 7149600 or email:training@kerryetbtrainingcentre.ie
Radio Broadcast Course
An industry-led, multi-award winning radio broadcasting skills course based in Tralee, County Kerry.
Trainees gain the key practical skills and experience needed to work in the radio industry and wider media sector. The course is the only full time radio broadcast training course in Ireland delivered in partnership with a commercial radio station and the only course to win 6 PPI National Radio awards. Beyond broadcast radio, we study the connected worlds of digital storytelling and mobile journalism.
Former trainees work at the BBC, RTE, Communicorp, UTV Radio, Independent News & Media, Thomas Crosbie Holdings, Maximum Media, the Independent Local Radio sector and a host of other online and media production companies. Former radio graduates have received over 30 PPI radio awards to date.
What you'll study:
Creative: Audiences, Ideas, Research & Development.
Audio: Equipment, Recording, Editing & Production.
Principles of Storytelling.
Storytelling & Crafted Radio
Journalism: News, Sport, Documentary.
Mobile Journalism
New Media – podcasting, blogging, social
Copywriting & Radio Commercials
Developing your Voice & Voiceover.
Producing Radio Programmes
Live Radio Presentation
Job Seeking & Career Building Skills
Certification: City & Guilds | Level 3 Diploma in Radio Production
Location: The National Digital Skills Centre & Radio Kerry
Duration: 50 weeks
Allowances: Training allowances payable, where applicable
Start Date: 16 October 2017
Ref Code: ET 283
Applications: The National Digital Skills Centre, (Kerry ETB Training Centre), Tralee, Co. Kerry
Contact: Linda (066) 7149638 or KETBTC (066) 7149600 or email: training@kerryetbtrainingcentre.ie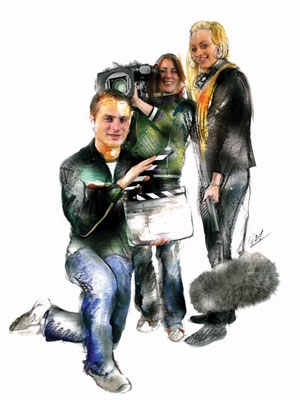 Education and Training Profile 2017:

Based in Tralee and running since 1987, the TV & Video production course offers practical skills-based training, utilising state of the art technology from such companies as Apple, Adobe, AVID, Sony, Panasonic, JVC and RED.

Adopting a 'training through production' ethos, the course exposes participants to a variety of industry standard equipment over a one year period, allowing them to sample all phases of production, and to work on real client-based projects for organisations such as charities, community groups, start-ups and NGOs.

Over the years, graduates have worked with many TV and film production companies including RTE, TV3, TG4, BBC, Setanta, Open Eye, Another Avenue, Coco TV, Element Pictures, EO Teilifís, EGG Post Production, Like it Love It Productions, Tangerine Post Production and Vision Independent Productions.

The type of training provided is entirely practical, hands-on and project based. Classes of 18 learners are broken into six groups of three who have to form their own production companies within the course.

Participants are often required to work outside the normal public service working hours, including weekends, to replicate industrial conditions.

Entry requirements are that applicants must be over 17 and have left full-time education, and are selected by interview mainly off the live register.

Successful graduates of the course, now working in the film and TV industry, include IFTA Rising Star winner Gerard Barrett, director of 'Pilgrim Hill'; Aideen O'Sullivan (winner of the IFTA for Best Sports Documentary for 'When Ali came to Ireland'); Alan Esselmont (BBC ALBA); Cliona O'Leary (Deputy head of sport with RTE); Tim Lawless (cameraman); David Blanc (editor); Ciara Whelan (TV3 presenter); Ivor Carroll (TG4); and Martin Cronin (Producer with Open Eye Productions).

Further information can be found at: http://www.digitalskillscentre.com/
---

Connect with Kerry Training Centre