IFTN speaks to the Irish award-winning Director Simon Gibney (Doctors, Spy II, Roy,The Podge and Rodge Show) about his work on Horrible Histories which recently won Best Kids: Factual programme at the 5th International Emmy® Kids Awards on April 4, in Cannes.
Simon talks to IFTN about filming for series six, the interesting particulars of writing comedy sketches with historians so the gag can never bend those historical facts plus his next directing projects with comedy talent at home in Ireland.
The winning BBC Horrible Histories episode 'Crooked King John and Magna' directed by Simon Gibney and Ian Curtis featured comedian Ben Miller in the title role. It looked at King John and the Magna Carta, as John annoys the Barons and raps his agreement at Runnymede. The series is produced by Tom Miller and Exec Produced by Richard Bradley for Lion Television productions.
IFTN: How did you feel about Horrible Histories International Emmy® Kids Awards nomination?
Simon: It's amazing to think that it has been recognised and judged internationally and for the team to get as far as an International Emmy®.
It's always lovely to get nominated for anything and Horrible Histories is a fantastic show and has obviously been around for a good number of years. It has all sorts of accolades both in the UK, the US and around the world, but I suppose the Emmy's are like the television Oscars. So, to get nominated for such a prestigious award was fantastic.
The competition is amazing, to see the likes of China and Germany in the category it makes it truly international. It's good to keep abreast of what's being made elsewhere in the world and what we can learn from that and what television is doing in all genres around the place.
At the time the series was being shot, it included some new cast as previous members of the Horrible Histories team had changed and the format had been amended slightly too. So it was great to see that the new format was being enjoyed as much as the previous.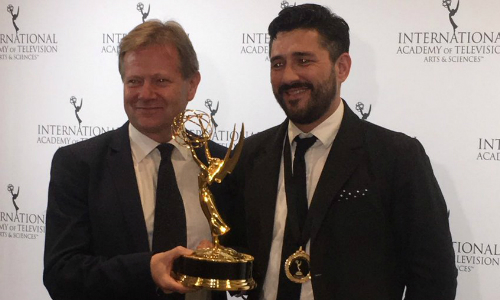 IFTN: Can you tell me how you became involved with Horrible Histories?
Simon: Like most of us freelance crew, they [Lion Television] invited me in for a chat and we got on well and so they asked me to do the series.
Lion Television is great because their fundamental background is documentary making along with history and current affairs so it's amazing to have that.
IFTN: Have you had the opportunity to learn some interesting history knowledge from directing Horrible Histories?
Simon: Yes, all the time. I suppose we are all big kids that love to learn new information. Just the same way the facts of life come about. You start learning what's true and what things did happen and it all kind of jogs your memory back to your old schooling days.
IFTN: As a children's programme how does the format work as both historically educational and comic? Is it hard to get that right?
Simon: Horrible Histories as a TV show have the bonus of having such a fantastic book series to back it up. So with the show, if you are able to connect and to start the quest and appetite of a young person about the topic you have done in an episode, that's golden.
To spark somebody's interest and then hopefully it gives them a giggle and a laugh, because ultimately it's nice to find that mixture of history and comedy as well.
Anytime scripts would be written or tweaked it was always historians. So whilst we would always be striving for some comedy, there were always historians around which was interesting for comedy writing because it wasn't you writing something funny for the sake of being funny.
You couldn't just throw history out the window or bend it for the benefit of a gag, the two have to work hand in hand. Which is fantastic to do, and it's great to know that in the sketches done for Horrible Histories both comedy and history are equally as strong.
IFTN: Can you explain a bit about the new format and how it differed from the previous?
Simon: The new format looks at individuals or individual eras, so in this case, it was the Magna Carta which had its 800th anniversary in 2015. What that afforded to do then, was to get celebrity comedians or comic actors in to play the title role.
So we had Ben Miller playing King John in this episode, but we've also had Sarah Hadland into play Queen Victoria and Rowan Atkinson also came on board to act as Henry VIII in an episode. So it's fantastic to have that sort of comic calibre in the show. It also just shows the love and respect that these comedians have for the show and for the writing and the writers. So that's all been very exciting.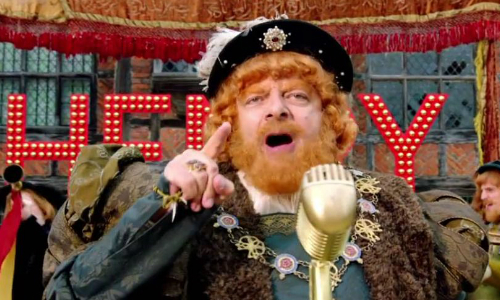 From a whole production point of view, it was about two years ago when Lion Television producers Tom Miller and Richard Bradley had a look at it. As people from the original cast had gone and moved on to do other things, so came a point that it was time to have a look at the cast and Lion Television decided to have a look at the whole thing and see where they could freshen it up.
You notice with the format of the 'Crooked King John and Magna Carta' episode we don't just concentrate on King John, we step away to look at what else is happening in the world at that stage. So about 80% of the episode is about King John and the Magna Carta and 20% gives a nod to what else is happening in the rest of the world.
With the whole series you are taking on something with so much history, so working with a slightly new format you don't want to be the crew that ends up changing its winning ways, but obviously, that hasn't happened so it's great!
As this was a special Magna Carta 800th Anniversary it was broadcast on BBC Two as well as on CBBC which was slightly groundbreaking in that it tried its hand at a larger scale wider audience and was successful. It's encouraging to know that parents sit down together with their kids and watch the show and learn about history together and share that information.
IFTN: What was the filming process and schedule like for series six?
Simon:Series six had fifteen episodes, we did a month and a half prep work and then there are about six weeks filming in total done. Then there's the editing process, which goes back and forth.
You do an initial rough pass and then you polish it down. Then the way it works like anything in modern tv the schedule is tight and quick and there's two blocks the main block, which I did and includes all the exterior stuff and then celebrity and guest artist shots. Then there's a smaller block which is done in the studio, it picks up some of the other bits and pieces and is shared with another director.
We filmed in studios in West London, although there is a lot of exteriors which I did on locations that make up, depending on the episode about 70% of the shows. Then there's a certain amount of studio standing sets and green screen elements involved too.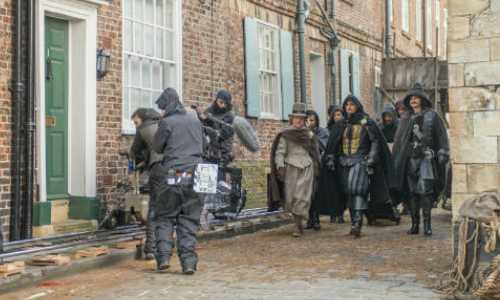 IFTN: So can you say what's next for Simon Gibney? What other projects are you currently working on or do you have in the pipeline?
Simon: I finished directing two episodes of Father Brown the BBC One drama with the comedian Mark Williams (Arthur Weasley in the Harry Potter films) before Christmas. It's set in the 1960's and based on the stories by GK Chesterton, about a crime-solving Roman Catholic priest. It's a very big international production for BBC worldwide that gets sold to about 90 territories. Our very own Irish actress Sorcha Cusack, plays the local parish receptionist in the series too.
Next, I'll be directing a new comedy drama with Deadpan Pictures and Alison Spittle called Nowhere Fast for RTÉ 2 which is exciting. Deadpan are a good company with a lovely track record and it's great to come home as well and do some work here with the talent that's in the country.