Let the battle commence! As 'Robot Wars' returns to BBC Two on Sunday 5th March at 7pm. IFTN caught up with the County Meath born presenter Angela Scanlon ahead of the new series to talk robot's, Tunnocks teacakes and filming those intense arena battles alongside fellow Irish co-host Dara Ó Briain.
This series looks to have plenty of action to unfold as discarded metal parts are flung into the depths of the pit amidst the emitting flames of the arena floor. With a close up view of all this destructive glory, Angela and comedian Dara report on the ruins, both consoling and celebrating with the teams and the robotic carnage creations.
IFTN: Angela, yourself & Dara Ó Briain are back this weekend presenting 'Robot Wars' as it returns to BBC Two. What's it like working alongside Dara on the series?
Angela: "I love working with Dara, we have a ball! This series was filmed before Christmas, in Glasgow, in a warehouse that is basically a hollow steel shell, it was minus 3 degrees.
"We spent days hugging hot water bottles, screaming through bullet proof glass as he celebrated technological superiority & I roar for the underdog who's made a plastic robot from a child's toy & the body of a bicycle. We ate a lot of Tunnocks Tea Cakes & played 'Heads Up' relentlessly."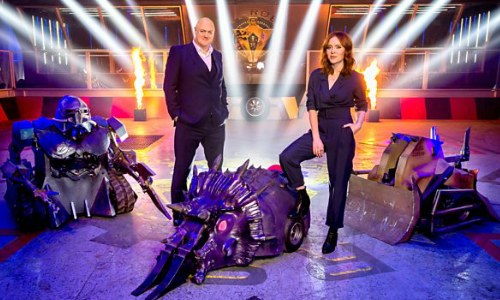 IFTN: There is a menacing new twist in the arena this year which is sure to heighten the excitement and drama. Can you describe the atmosphere when the filming begins and the battles commence?
Angela: "The audience is bigger & more involved this series. They're right with us in the pits so they see the insides of the robots and get to know the teams, it generally means that when they get in the arena it's just more intense!
"Last series Carbide felt very dominant but this series there are a number of teams at that level if not better. During the battles the arena was ripped up, lumps torn out of it with shards rattling through the polycarbonate. Everything is just BIGGER this series. The teams have left nothing behind & the audience can feel that."
IFTN: Who is your favourite House Robot?
Angela: "Matilda. She's just unapologetically nasty & I enjoy that immensely. But Dead Metal is in a serious fouler this series so expect lots of damage."
There's a surprising new twist being introduced into the battles this series. Hitting the arena tyre no longer automatically lowers the Pit. It can also activate a mode called Rogue House Robot. This releases a House Robot to attack the competitors for a period of ten seconds, anywhere in the arena.
Each heat begins with two group battles; the four top teams go into a mini-league. Points are awarded to competitors based on control, damage and aggression with maximum points awarded to competitors who incapacitate their adversary.
Competing through brutal group battles and fierce head to heads for a place in the heat final are robots; Aftershock, Nuts 2, Jellyfish, Rapid, Sabretooth, TMHWK, Terrorhurtz and Crank-E. They must dodge the arena hazards and the menacing new twist as house robots are unleashed to attack competitors and inflict maximum damage.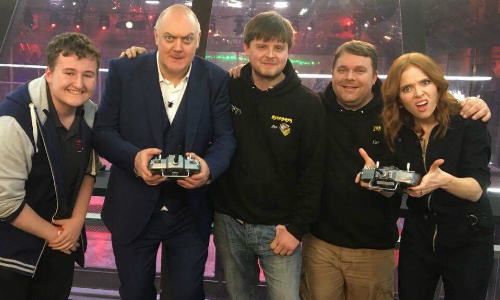 Presiding over the battles are three judges: Professor Noel Sharkey, Dr Lucy Rogers and Professor Sethu Vijayakumar. In the case of no clear winner they will appoint a winner based on competitors' control, damage and aggression.
During their fights teams must try to dodge the arena hazards - The Pit, The Spikes, The Flipper and Fire. They also have the four House Robots to deal with: Matilda, Dead Metal, Sir Killalot and Shunt.
Dara Ó Briain and Angela Scanlon present the new series of 'Robot Wars', with battles commentated by Jonathan Pearce. This is the first group heat, as eight robot fighting team's battle for a place in the grand finale.
Episode 1 features Nuts 2, Jellyfish, Rapid, TMHWK, Sabretooth, Terrorhurtz, Aftershock, and Crank-E. 'Robot Wars' returns to BBC Two on Sunday 5th March at 7pm.
See a below preview clip of what to expect from the first episode this weekend as 'Robot Wars' returns. Let the battles commence!
Production Credits:
Presenters: Angela Scanlon & Dara O Briain
Commentator: Jonathan Pearce
Judges: Lucy Rogers, Noel Sharkey & Sethu Vijayakumar
Executive Producer: Andrew Robertson
Series Producers: Kirsten Highet & Henry Imbert
Director: Tim Van Someren
Production Manager: Emily Ricketts
Editor: James Charkow
Production Company: Mentorn Media