'Éire Fhiáin – An Cósta Thiar' a Crossing The Line production for TG4 takes you on a wildlife journey across one of the most spectacular coastlines in the world that encompasses Ireland's most striking wild environments.
A two hour special of spectacular footage exploring the 1,600km of rock and ocean that make up our island's Atlantic edge.
"This is the series I have always wanted to make," says producer, John Murray. "The West coast of Ireland offers a magic and a mood I have never felt in any other part of the world and we are lucky enough to have it on our doorstep. Ireland might be small in size but it has an extraordinary diversity of landscapes which are brought to life by the creatures that live there. This is a really exciting series for Crossing the Line and for TG4."
Presented by Eoin Warner and produced by the team behind some of the most internationally celebrated nature films of recent years, 'Éire Fhiáin – An Cósta Thiar' uses the very latest camera techniques; night time, macro and slow motion to marry remarkable images with rock solid storytelling and create two truly memorable hours of film about the hidden creatures and secret corners of Ireland's Atlantic realm.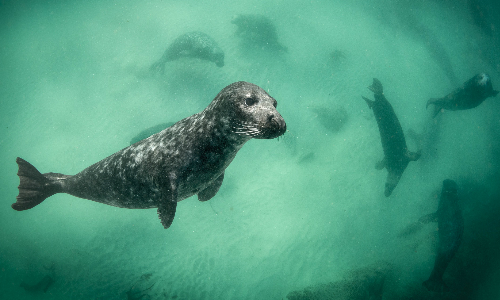 This series is a compelling portrait of the wild creatures that inhabit a coastline that was for millennia the very edge of the known world. As never captured before, it embraces Ireland's Atlantic wildlife– from breaching Humpback Whales off the southern shores, to Golden Eagles fighting the gales of the northern highlands.
Eoin opens the series surrounded by thousands of comical Puffins and secretive Shearwaters who travel to Skellig from sub-Antarctic waters every year to find the same nest to breed with some seeking shelter in the monk's cells of Skellig's ancient monastery.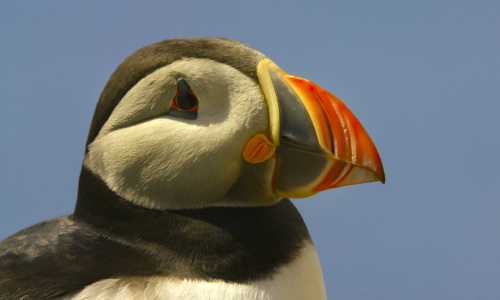 Heading north from here he encounters leaping Humpback Whales off the Blasket Islands before heading inland for Killarney to capture our last herd of ancient Red Deer as the rutting season begins. In the ruins of an ancient castle, Eoin finds a family of Barn Owls have taken up residence before he heads north to reach Ireland's limestone desert – the Burren, home to the island's only reptile, the common lizard.
The first episode of 'Éire Fhiáin – An Cósta Thiar' airs on Wednesday, March 1st on TG4 at 9.30pm. The second episode exploring Galway, Donegal and the Connemara Islands will be on TG4 the week after Wednesday 8th March at 9.30pm.
Éire Fhiáin – An Cósta Thiar' is developed & produced with the support of the Creative Europe Programme MEDIA of the European Union and produced with the support of investment incentives for the Irish Film Industry provided by the Government of Ireland.
A Crossing the Line Production for TG4 in association with BBC, ORF, PBS, France TV and NDR.
Production Crew List:
Presenter: Eoin Warner
Producers: John Murray & Cepa Giblin
Director: Gerry Nelson
Editor: Cara Holmes
Principal Photography: Domenico Pontillo & John Murray
Underwater Photography: George Karbus
Sound Design & Mix: Paul Finan
Music: Colm Mac Con Iomaire Kíla
Post Producer: Séamus Connolly
Field Producer: Eoin Kelly-Smith
Colourist: Gary Curran
Online Editor: Séamus Connolly
Research: Juanita Browne & John Lusby
Production Manager: Ciara Baker & Juanita Browne
Commissioning Editor for TG4: Proinsias Ní Ghrainne