Founded in 2007 by producers Dominic Wright and Jacqueline Kerrin, the Dublin based start-up is literally making ripples in the Irish film industry. Ripple World Pictures' focus, as the name suggests, is not just on Ireland. They have international ambition.
In just four years, Ripple World Pictures has created an illustrious resumé of six feature films, amongst them several co-productions, from 'Lapland Odyssey' – the highest performing film in Finland of 2010 - to their highly anticipated October 14th releases 'Parked' and 'Retreat'. In the coming year they will continue to ramp up their international co-production activity and step up the production scales of their projects. 
'Retreat' and 'Parked' both boast stellar casts with homegrown talent: Cillian Murphy, Thandie Newton and Jamie Bell displaying their prowess in psychological thriller 'Retreat', and taking centre stage in 'Parked' is Colm Meaney and up and coming Irish actor Colin Morgan (Merlin).

Focusing on the phenomenon of mobile homelessness, 'Parked' tells the story of middle aged Fred, who returns to Ireland with nowhere to live but his car. In a parking lot by the sea, he meets Dublin drug-addict Cathal and an unlikely friendship forms. 'Parked' has already triumphed on the festival circuit, winning Best First Feature at the 2011 Galway Film Fleadh, Best First Feature for director Darragh Byrne at the Paris Close Up Film Festival, Best Feature at Irish Film Festival Boston, the Audience Award at Brussels Film Festival and nominations in four categories at this years IFTA awards. The script came to Ripple World on a recommendation from the Irish Film Board, who had seen it but deemed it of an unsuitable budget for their micro budget initiative Catalyst Project. "We read it and within 24 hours said yes, we want to do this. The material was really strong," says Jacqueline.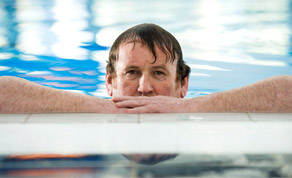 Colm Meaney in Parked
Jacqueline and Dominic were both involved with the development of the 'Parked' script, working on it together with screenwriter Ciaran Creagh and director Darragh Byrne for a year and a half. "We like to get involved with the script for all our projects. We enjoy it. With 'Parked', it was originally a non-linear script. But after being in development with it for about 18 months, with Andrew Meehan at the Film Board, it became a linear story and was fine-tuned," says Jacqueline.
'Retreat' was brought to Ripple World by producer Gary Sinyor, a contact already familiar to Dominic from "dare I say it, the early 90s'." It was a project that Ripple World pushed to bring to Ireland, but when rejection followed an application to the Irish Film Board, the producers stuck with the project and made it as a UK Production through their London office. "At the time of submitting it to the Film Board, needless to say, Cillian Murphy was not part of it. If he had been, things might have been a little different. But the story and the script was pretty much the same," says Dominic. "It was eventually financed through the market and shot in Wales."
Both 'Parked', 'Retreat' and Ripple World's Sci-Fi Rom-Com 'Earthbound' - which has recently completed post at Ardmore Sound in Wicklow and EGG Post Production in Dublin - were all projects taken on with first time feature directors. When I ask the duo if this caused them any worry, they both say yes. "I think every producer working with a first time director has worries. It is a risk and you do have reservations but in the end you have to be passionate about the material, and the director must be passionate about the material, and there must be good communication between everyone," says Jacqueline. 'Parked' director Darragh Byrne had a string of documentary directorial experience under his belt, which Jacqueline says was "clear evidence" of his directorial capabilities. "Coupled with the intense development period, where we had worked so hard on this script and we could almost finish each others sentences." Dominic also echoes this sentiment, citing Darragh's "wealth of experience" as a documentary director.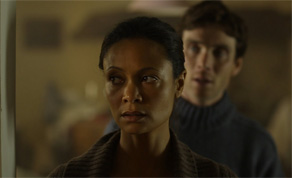 Thandie Newton & Cillian Murphy in Retreat
The previous work of Ripple World's other first-time feature directors also demonstrated their capabilities. "With 'Retreat', Carl (Carl Tibbetts, Retreat Director) is  experienced as an editor – he also had a very strong mood reel, which showed proof of concept. With 'Earthbound', it was a strong concept, and Alan's (Alan Brennan, Earthbound Director) ability to pull it off was evident in his short films" says Dominic. "When we saw his mood reel we knew he could do it," adds Jacqueline.
But as with all film production, despite the producers having the greatest of faith in their debut directors, money does not come easy to those without proven experience. "To raise money for first time directors is really challenging and 'Parked' was a hard sell," admits Jacqueline. Dominic adds: "the hardest task in the world is making a project with a first time director and bringing it to the market to try and raise money. No one will give you an advance unless you have incredibly strong material to show what the film is you are going to make and in the case of 'Retreat', a very strong cast. The cast is what delivered the pre-sales for 'Retreat'."
They suggest that cast is another roadblock in the path to producing a first time feature debut, with reputable cast reluctant to risk the possibility of failure. "Everyone puts their career on the line for every project. But when it comes to first time directors,  everyone gets a little nervous. It's up to the director to communicate well and get rid of the nerves," says Jacqueline. Yet the strong casts attached to both 'Parked' and 'Retreat' show it is not an impossible feat for Ripple World. "If they (the cast) connect with the script, we try and get them to meet the director straight away. This is what we did with Darragh and Colm (Meaney). Because if they don't click personality wise with the director, it's probably not going to work."
Having a household name like Colm Meaney attached to the project was a blessing. With a reputation as a great actor secured both at home and abroad, Colm is an instant attraction for audiences. Colm told IFTN that he took on the role because the he wanted the "challenge" of playing a "subdued and internal" character, different from his usual 'big' performance. Jacqueline says for Ripple World and director Darragh Byrne, they "needed someone who could really connect with the audience. Colm was always up there in our thoughts for who might play Fred. Ripple will always be ambitious about casting."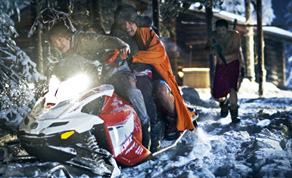 Lapland Odyssey
Dominic explains the criteria they were searching for in the Fred performance. "With Parked, it was always critical that whoever played Fred was going to be someone who was utterly believable in the role. But it was really important that they also had that kind of warmth that Irish audiences respond to - and Colm completely pulled that off."
With the talent pool of younger Irish actors being more heavily populated, the process of casting Cathal was less straightforward. "It was tough. A lot of them actually gave us tingles!" Jacqueline explains that with Colin Morgan, there was an 'ah-ha' moment. Although not being present for the initial audition, she received a phone call from Dominic and director Darragh: "I got an excited phone call from them saying, you have to see this! When I saw the tape, I knew it was him. He nailed it."
Dominic witnessed the Morgan audition first-hand and was immediately impressed: "He played it initially in his own accent from Armagh and then he played it in a Dublin accent. And if you've seen Merlin, he does an impeccable English accent. It was phenomenal."
The 'Parked' shoot took place in January 2010, in one of Ireland's worst winters, the cast and crew of 'Parked' endured everything from sleet, gale force winds, rain and ice. While both producers affirm it was "a tough shoot", they also acknowledge the advantage that the weather brought to the visuals of the movie. "It all adds to the drama of the scene and the sea looks great as well. When you have that horizontal wind and rain, it turns the sea into a pretty interesting character as well," Dominic says. "Irish crew soldier on in any weather and they did a great job," adds Jacqueline.
'Parked' had its Finnish premiere at the Helsinki Film Festival last month, where it was picked up by international press. An interview with Colm Meaney was syndicated all over the world through Associated Press, bringing the low-budget Irish release onto the pages of the New York Times, the Washington Post and to Chinese Television. The Finnish premiere took place on the same day as the All-Ireland Final, and the Irish contingent in Helsinki gathered to watch the match. "Colm and all the guys from the Irish Embassy in Finland were pretty eager to see it. So they made sure that the two didn't clash. They watched it in the Irish cultural attaché's apartment, where it was on a big screen. After the match, they went off to see the movie. It was a fantastic night after that! We heard they had a late one!"
This is Ripple World's second co-production with Finland (Lapland Odyssey) and possibly not the last. Jacqueline says it is a perfect partnership: "We like co-producing with Finland because it just works. They have an incredible work ethic like us. They are a similar sized country to us, about four or five million people. Their crews, like ours, are of a really high quality. Their post production facilities are really high class as well, which is why we did sound over there for 'Parked'. Their acting talent is great. And it's a great advantage that they speak fluent English."

Coming up on their slate is their latest completed feature 'Earthbound', produced with Heidi Madsen. "Spielberg on a budget," according to Dominic. Projects in the pipeline at Ripple World include Ivan Kavanagh's western 'Where We'll Never Grow Old', currently casting with the Hubbards in London; Gary Sinyor directed thriller 'The Unseen' currently casting in L.A. with Tricia Wood of Aquila/Wood (casting directors behind 'Twilight') and Italian co-production in English language thriller 'Controra', due to shoot in Apulia, Southern Italy next April with IFTA nominated Irish actress Fiona Glascott (Anton Chekhov's The Duel) in the lead role. The development slate includes another feature with Darragh Byrne, comedy drama  'The Valentine Gang' currently being scripted by Mark Doherty ('A Film With Me In It'). Working again with past partners such as Gary Sinyor (Producer of 'Retreat'), Darragh Byrne, and their Finnish co-producers, Jacqueline adds "We want to have partners for the long term."
With Ripple World continuing to expand and build up their profile, they say the quality of the material is imperative when picking new projects. "What we get excited about is the material, directors and talent. Everyone in Ripple really needs to love a project. Because we are a small company and we all work long hours, we all have to love a project for us to do it!" Ripple are also looking at a possible animation project and discussing a bunch of TV possibilities "We are particularly keen to work with some of the UK companies to bring more TV production here, because it is a great climate for doing that. Ireland has a lot to offer other countries - Irish Film Board production loans, the Section 481 28% tax incentive, and access to Eurimage funding."
Jacqueline says for their projects going forward they are "definitely looking at material which has the potential to be multi-platform within it, so for example, 'Earthbound' that is something that could be made into a TV series, a comic book, an App, games. With every project we want to do, that is how we assess it and can get excited about something. More and more that is critical to our thinking."
For further information about Ripple World Pictures visit rippleworld.com/