For Galway Film Fleadh programmer Gar O'Brien, 2011 is his first year in the chief position after taking on the job in October 2010. The Fleadh is known for attracting international attendees from all around the world and presenting a programme with an incredible diversity of film screenings as well a host of other events including masterclasses, awards, interviews and financial seminars. The lineup for the festival's 23rd edition is no different featuring highlights such as an open interview with Martin Sheen, Q&A's and masterclasses with top industry insiders, with a host of Irish, European and World Premieres.
A long term staffer at the event, Gar O'Brien had previously gained experience in a variety of roles at the Fleadh including venue managing and section programming. Gar explains how he first got involved with the Fleadh. "I moved out to Galway to do a Masters at the Huston School of Film in NUI, Galway. I volunteered at the Fleadh and within a few days I had a job there." Spending years working in diverse capacities at the Galway Fleadh is something Gar believes has informed his new position as programmer: "I know what can be done and maybe what doesn't work so well because I have worked in other roles in the Fleadh. Hiring from within has this advantage," says Gar, who goes on to say "I was honoured to be offered the position. I hope to continue to build upon the success of the Fleadh."
When asked what he believes are the highlights of the 2011 Fleadh programme, an infectious passion for film shines through in Gar's speech. "It's so hard to pick the highlights because there is so much. Well obviously Irish wise, there is Darragh Byrne's 'Parked' which is opening the festival, Rebecca Daly's 'The Other Side of Sleep' and Alexandra McGuiness' 'Lotus Eaters'. As a personal favourite, I'm looking forward to 'Charlie Casanova', I think that will divide everyone. Also Gerard Hurley's 'The Pier'." Many of these Irish films have enjoyed great international success having been chosen to be screened at celebrated festivals such as Cannes (The Other Side of Sleep, The Guard, Knuckle, Parked) and Karlovy (The Pier). Showcasing Irish talent from both experienced but also particularly new Irish directors is something that is central to the festival. "Irish film is something that we are all quite passionate about here," says Gar. Galway has always provided a platform for first time feature directors, a tradition Gar intends to maintain. "The Best First Feature is all about showcasing and providing a platform for Irish Cinema. And it just so happens there is a great deal of top quality Irish Cinema." Internationally, Gar lists Argentinean thriller 'No Return' from the makers of Oscar winning drama 'The Secrets in their Eyes' as one to watch.
Charlie Casanova
But how does a film find its way into the Galway Fleadh programme? Gar explains that "the process of selection is all about what's available to you. It has a lot to do with format concerns. You want the programme to be diverse, to have a lot of different angles so you try and get the best mixture of what is available to you." But in his first year in the role, Gar believes it was a year for "learning what is feasible and what is not." Yet he insists the bad financial situation has not inflicted too much constraint on the Fleadh. "Yes it is tougher than it used to be. But we have generally been quite lucky with financial things. Money has never stopped us from getting something we wanted, we have to haggle people down but that is part of the job."
One new event at this year's Fleadh and introduced by Gar is a 30 minute short film competition. "The 30 minute film festival is new to the Fleadh. It was open for anyone to enter a one minute clip via YouTube. This is the sort of thing people could do with there phone. There are no technical restrictions and no themes. It's going to be really interesting to see what people will come up with no restrictions." The showing of shorts at Galway is another tradition that he insists will continue, saying "there is so much talent among students and younger people. And this is an opportunity for them to get their work shown." Gar speaks of wanting to get younger people even more involved in the Fleadh, in particular acknowledging the talent coming from colleges, but for him the Galway Film Fleadh will always be aiming for diversity in audience. "If you have a wide range of films you generally attract a wide range of audiences. And we have a wide audience. For example 'Troll Hunter' and 'Hobo With a Shotgun', they are niche films. We have LGBTQ interest such as '80 Days' and 'Gigola'. We have films for Kids with Pixar's 'Cars 2'. We have historical cinema. And the audiences at Galway are weirdly sophisticated so they want diversity."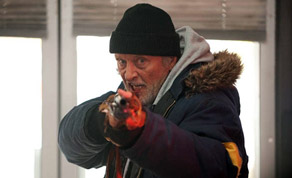 Hobo With A Shotgun at the Fleadh
Gar also explains that in the process of selection for the Fleadh programme, he finds links in the line-up which are not so obviously categorised saying "There are links across the programme that introduce people to new films that they wouldn't necessarily have put in the same category. These are connections across the programme that wouldn't always be obvious. For example the Irish documentary 'Knuckle' which follows the travelling culture and bare knuckle boxing and the Aboriginal film 'Mad Bastards'." 'Mad Bastards' is a fictional film directed by Brendan Fletcher which has non actors in the lead roles and is about the men battling to do the right thing by their family. Gar says these are exciting connections that can help the festival attendee find content they might not otherwise have heard of. "You find strands and connections that you wouldn't expect. We're not advertising them to people as such but we are finding connections that are not immediately apparent."
When asked about future plans for programming at the festival Gar says he wishes to continue to get "edgy" films at the Fleadh. "And by edgy I don't necessarily mean controversial, I just mean exciting and new films." explains Gar. Speaking of the upcoming Fleadh, he says he is both "nervous and incredibly excited. I don't sleep for the week!"
For more details, the full programme of events and to book tickets go to www.galwayfilmfleadh.com.
The 23rd annual Galway Film Fleadh will take place from the 5th - 10th July 2011.
IFTN has two season passes to the Galway Film Fleadh to give away in this week's competition - enter here