'Lockout', the Guy Pearce-starring sci-fi adventure, will arrive with no little amount of hype and a particular emphasis on its visual effects, all of which were created by an 80-strong team in Sandyford, Dublin, in a facility specifically build around the Luc Besson-produced project.
"Our proposal was basically that we had to create a separate stand-alone visual effects facility built around the requirements of the project," James Morris, Chairman of Windmill Lane, says of the company's pitch to French studio Europa Corp, which Besson co-founded. "To build a facility around a project is not a usual way to do things," he says, "but it's essentially what we did."
That facility, Windmill Lane VFX, opened its doors as Ireland's first dedicated stand-alone feature film visual effects facility in 2010. Its birth ran in tandem with that of the €30m budget 'Lockout', which was written and directed by the talented Irish filmmaking duo of James Mather and Stephen St. Leger, best known for their 2004 short 'Prey Alone'.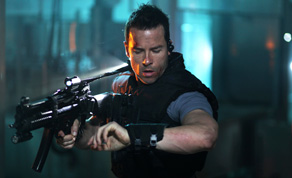 Guy Pearce in Lockout
Having worked briefly with Windmill Lane on that production, Mather and St. Leger persuaded Besson and Europa Corp that the film's entire visual effects could be done in Ireland with Windmill Lane.
"Without Stephen and James having done that, this would never have happened," Morris says. "I think it was a leap of faith based on the assurance of Stephen and James, I feel. But they (Europa Corp) also came over and saw our operations here in Herbert Street and after that we put together a plan that it involved recruiting a creative a technical team for 'Lockout'."
Windmill already had, of course, highly-talented and experienced people in-house who handled visual effects shots through its post-production facility, but the scale of 'Lockout' necessitated recruiting a creative team with a  proven record in feature visual effects production.
"I realised that the scale of this production meant that it was simply not feasible to think of it in terms as an extension of a post-production facility," Morris says.
"None of us had worked on a dedicated visual effects production environment and the critical thing is that you set up this pipeline which is, as opposed to everyone working individually, we had a pipeline with 45 seats on it with people working collaboratively so it was a pretty massive undertaking."
To oversee that "massive undertaking" visual effects supervisor Richard Bain (Casino Royale, Inception) was brought in to head-up on-set supervision on 'Lockout'. Ditch Doy (Casino Royale, Flightplan) joined him to set up Windmill Lane VFX's 3D department, while returning Irishman Ciaran Crowley headed up al the 2D department overall.
Crowley was returning home after more than a decade with London visual effects houses such as Double Negative, where he worked on titles such as 'Inception', 'The Dark Knight' and 'The Bourne Ultimatum'.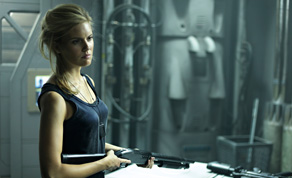 Maggie Grace in Lockout
"I would be well versed in the big budget side of things, I suppose," say Crowley who revealed it took three months to build Windmill's VFX house in south Dublin. "So, it was a chance to come home for me and do what I always wanted to do which was set up a visual effects company, do what I love doing and do it at home and maybe use the knowledge I had gained over the 10/12 years and sort of  help create the industry with the help of James and really develop the talent as well is a big thing for us. In Ireland there is a lot of talent and we're just bringing it in to the company which is something as well."
Around 50 people were brought in specifically for the project. "We needed experienced people, people with middle experience and we took on a lot of trainees as well," Morris says. "So overall there were probably about 80 people who worked on it. There would have only been 45/50 at any one time."
Those trainees often had varied backgrounds in terms of the visual effects software they had used. It meant that Windmill had to bring them up to speed with the compositing tools – Maya and Nuke – that they were using on 'Lockout', which will no doubt have a lasting impact on the visual effects industry as a whole in Ireland.
"We did run some in-house training modules whereby we got in Maya and Nuke professionals," Morris says. "Because a lot of the younger ones were coming out of the colleges with After Effects and because Nuke was the system we were working with we brought in a professional trainer so in our working area where you would have almost 40 people sitting, it would suddenly become a classroom and the trainer would just take a projector and would take everybody in, even the experienced found it useful because Nuke has evolved from a prior software."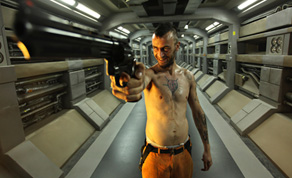 Joseph Gilgun
The experience has, Morris says, "basically been a crash course in building a visual effects studio".
"Certainly from my point of view the learning has been exponential really. The visual effects industry everywhere else in the world has developed incredibly rapidly over the last 10 years and what would have been my own knowledge of it from a few years ago was more or less completely redundant. It's incredibly technically driven.
"That's the other thing you learn about it is that you buy your software brand new, Maya and Nuke, which are sort of the industry standards worldwide, as Ditch said to me "Buying the software is just like buying the alphabet it doesn't mean you can write sentences".
"You need a huge amount of software developers and pipeline management to write the tools for the artists who are working on the shots to actually make the software do what we want it to do and that's why visual effects houses, unlike facilities, need an R&D (research and development) department.
"You can't just rely on off-the-shelf software, you have to be able to crack solutions and come up with your own way of creating an image. That then becomes part of the visual effects company, part of what you get to be known for."

Morris is particularly proud to point out that all the visual effects work was carried out in Dubin at Windmill Lane VFX. "We did all of the work," he says. "100 per cent of the work was done here. Big projects get shared among houses a lot of the time and that's quite common, where as a company we might do part of a show and then other parts would be done by other companies or in another country.
"What was great about this project is that we did 100 per cent of the visual effects so we were involved in the whole process from beginning to end. That was terrific."
Part of the challenge now, he says is keeping the talent in Ireland and nurturing new emerging Irish talent and trainees. He says that while the company had a pool of talent of animation available to use, this was less the case when it came to digital compositors largely because compositing is not widely taught as a stand-alone subject in Irish colleges.
"80 per cent of a visual effects company is the people," Morris says. "It's PCs Servers and software but R&D and engineering are also people. Keeping that together is obviously the challenge because all of this work is international and it takes time to build a reputation. We are working hard on seeking out other projects and once 'Lockout' is released we can show that work and it will make a big difference"
In tandem with 'Lockout', Windmill VFX are also in the process of producing all the visual effects work on director Ciaran Donnelly's 12 part drama series 'Titanic: Blood and Steel'. This has only added to the level of experience talent Irish visual effects compositors have been able to take out of Windmill."
"In the junior side of things we did take on in the world of compositing, four or five young Irish guys who've proved themselves, they've been through hellfire really on the show, you know," Crowley says. "Their levels of ability have escalated with time so I think that's really rewarding for us to see the talent grow, especially when you prove yourself right, when you pick the right people as well which is always a bit of a gamble.
"But some of these guys have really done wonders in the last year, so we hope to continue that to be honest with you. We are actually doing the same thing on Titanic where we have taken a couple of juniors who are doing the same thing in both 2D and 3D so the separate departments. So it's ever evolving and you sort of hope to develop that with time if we can get another nice big job and if we can get all the Universities on side.
Morris adds, "We would also like to build those links in to third-level. It still is very early stages."
And as audiences get set to enjoy the hard work of the Windmill Lane VFX team when 'Lockout' and 'Titanic: Blood and Steel' are screened this month, Crowley will be happy if their praise focuses on the acting and writing talent on show.
"Visual effects is most often what you don't see," he says. "As an artist, when no one comments on visual effects, you know you've done your job well!"
'Lockout' is to be released by Film District and Europa Corp. It was written and directed by Irish filmmakers James Mather and Stephen St. Leger. Mather also handled cinematography.
Visual effects were carried out by Windmill Lane VFX in a team headed by Richard Bain, Ciaran Crowley and Ditch Doy.  Film editing was carried out by Eamonn Power (An Ranger).
For more on Windmill Lane see their official website here.