Saol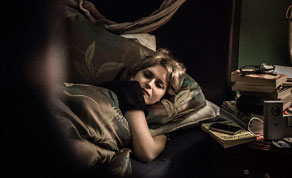 Completed
YEAR: 2014
DIRECTOR: Paco Torres
WRITER: Gemma Creagh Iarlaith Forkin Paco Torres

PRODUCTION COMPANY: Zanzibar Films RCA Media Productions Limited

PRODUCER: Colin Browne Edwina Forkin Stephen Gibson

CAST: Chloe Gibson Rory Mullen Joe McKinney Andie McCaffrey Byrne

LOCATION:

EDITOR: Bartlomiej Chowanski
DOP: Eimear Ennis Graham
COSTUME DESIGN:
PRODUCTION DESIGN:
HAIR/MAKEUP: Marina Granville
SOUND: Alan Rogers
MUSIC: Jesús Calderón

« Go back
'Saol' is a story about a girl trapped in her own life after losing her dad a year before. She suffers from Obsessive Compulsive Disorder (OCD) and lives with a fear of leaving her house in an upper class neighbourhood of Dublin. The film deals with issues such as anxiety, obsessions and the reconstruction of family.