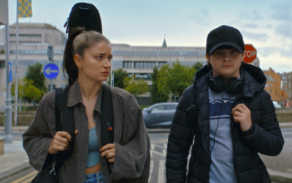 Eve Hewson and Orén Kinlan
High Life, performed by Eve Hewson and Orén Kinlan, is the first single to be released from the soundtrack to John Carney's Flora and Son.
The first single from the soundtrack to upcoming music drama Flora and Son has been released. The film is directed by John Carney (Sing Street), and stars Eve Hewson (Bad Sisters) and Joseph Gordon-Levitt (Inception). The cast also includes Jack Reynor (Midsommar) and Amy Huberman (The Stag).
Eve Hewson performs the new single, High Life, alongside co-star Orén Kinlan (Sunlight).
Flora and Son follows single mother Flora (Hewson) and her rebellious teenage son, Max (Kinlan). Encouraged by the police to find Max a hobby, Flora tries to occupy him with a beat-up acoustic guitar, with the help of a washed-up LA musician (Levitt).
The film premiered at Sundance earlier this year, and sold to Apple Original Films for approximately $20 million. Flora and Son: Original Motion Picture Soundtrack is produced by Gary Clark (Sing Street), and is being released by Lakeshore Records who previously distributed soundtrack albums for Stranger Things, Drive, and Les Misérables among other projects.
See below for the film soundtrack's full tracklist:
Guitar Repair, Gary Clark
I Hope That I Don't Fall in Love with You, Joseph Gordon-Levitt
Abra Da Cabra, Gary Clark
I Get Along Without You, Joseph Gordon-Levitt
Dublin07, Eve Hewson, Oren Kinlan
Juanita, Eve Hewson
Shopping Mall, Gary Clark
Welcome to L.A., Joseph Gordon-Levitt
I'll Be The One, Adam Hunter
Crumlin to L.A., Jack Reynor, Gary Clark
Meet In The Middle, Joseph Gordon-Levitt, Eve Hewson
Rooftop, Gary Clark
Court, Gary Clark
Montage, Gary Clark, John Carney
Flora Watches Max, Gary Clark
High Life, Eve Hewson, Oren Kinlan
Talking To You, Joseph Gordon-Levitt
The Best Day, Adam Hunter