The Farthest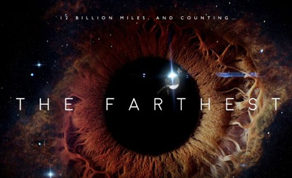 Documentary
Completed
YEAR: 2018
DIRECTOR: Emer Reynolds
WRITER: Emer Reynolds

PRODUCTION COMPANY:
Crossing the Line Productions

PRODUCER: John Murray Clare Stronge

CAST:

LOCATION: U.S

EDITOR: Tony Cranstoun
DOP: Kate McCullough
COSTUME DESIGN:
PRODUCTION DESIGN: Joe Fallover
HAIR/MAKEUP:
SOUND: Steve Fanagan
MUSIC: Ray Harman

« Go back
Synopsis
It is one of humankind's greatest achievements. More than 12 billion miles away a tiny spaceship is leaving our Solar System and entering the void of deep space - the first human-made object ever to do so.
RECOMMENDED READING
The Farthest Opens in UK
Emer Reynolds' film has become the biggest grossing documentary at the Irish Box Office so far this year.