Moone Boy Series 3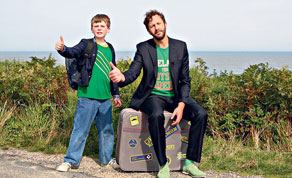 TV series
Completed
YEAR: 2014
DIRECTOR: Chris O'Dowd
WRITER: Nick Vincent Murphy Chris O'Dowd

PRODUCTION COMPANY:
Grand Pictures

PRODUCER: Ted Dowd Paul Donovan (executive producer)

CAST: Chris O'Dowd Peter McDonnell Deirdre O'Kane Simon Delaney Johnny Vegas David Rawle

LOCATION:

EDITOR:
DOP:
COSTUME DESIGN:
PRODUCTION DESIGN:
HAIR/MAKEUP:
SOUND:
MUSIC:

« Go back
Series 3 moves the action to 1991. Martin is now in secondary school and things are very cramped at home after the arrival of the first grandchild. Debra embarks on a new career in marriage counselling while Martin and Padraic get to visit Dublin for the first time and discover that Grandad has an imaginary friend too.