Viva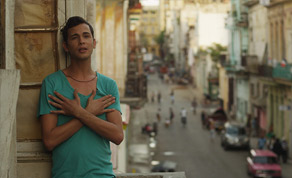 Feature Film
Completed
YEAR:
DIRECTOR: Paddy Breathnach
WRITER: Mark O'Halloran

PRODUCTION COMPANY:
Treasure Entertainment

PRODUCER: Robert Walpole Rebecca O'Flanagan Cathleen Dore

CAST: Mark O' Halloran Jorge Perugorría Luis Alberto García Hector Medina

LOCATION:

EDITOR:
DOP: Cathal Watters
COSTUME DESIGN:
PRODUCTION DESIGN: Paki Smith
HAIR/MAKEUP:
SOUND:
MUSIC:

« Go back
Set in Cuba, 'Viva' tells the story of Jesus, an eighteen year old Cuban, who is lost and struggling to realize his true identity. Unsure of himself or his future, he works at a local Havana drag club where he entertains dreams of becoming a performer. At home he finds solace listening to the records his mother and grandmother left him: romantic torchsongs by the great names of Latin music. Into his life, however, comes a force to challenge his direction and tentative freedom: his long lost father, a celebrated boxer, released from a 15 year prison term having killed someone in a street brawl when Jesus was a child. Through this uneasy relationship, 'Viva' becomes a tender love story between father and son as both men struggle to understand each other and escape the burden of expectation, duty and past sins.