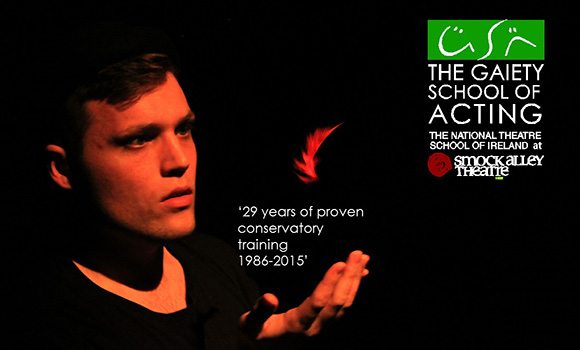 The Gaiety School of Acting - The National Theatre School of Ireland was founded in 1986 by internationally renowned Theatre Director Joe Dowling in response to the lack of full time actor training in Ireland at the time. The school is now widely regarding as the country's premier training facility for actors with Patrick Sutton as Director.
Our message is to enhance Creativity and Confidence through the medium of performance. Our notable alumni include Colin Farrell, Olivia Wilde, Aidan Turner, Eva Birthistle and Colin O'Donoghue amongst them. In 2011, To celebrate our 25 years in the industry we moved from our original location on Sycamore Street to our new premises, The Gaiety School of Acting at Smock Alley on Essex Street West in the Old City quarter of Temple Bar. Nestled in this historically rich part of the city between Parliament Street and Fishable Street the new premise has been transformed into theatre complex adjacent to the Smock Alley Theatre. In addition to three new rehearsal studios, the school also contains a black box performance area in the basement of the building.
Courses available
For a full listing check out http://www.gaietyschool.com/courses/
The school provides an extensive programme of part-time courses for adults, children and young people throughout the country that encourage individuals to grow in confidence and develop techniques. We have courses available in Temple Bar, Malahide and Bray.
Young Gaiety - For our younger students we are offer courses such as Musical Theatre, Casting & Audition and The GSA Sing Project. Young Gaiety classes take place in our Temple Bar, Malahide and Bray venues.
For adults, there are part-time courses in Introduction to Drama, Acting for Camera,Stand-up Comedy,Media skills and plenty more. We also offer the option to study specific skills on our weekend and one day workshops. While still offering our regular popular courses of Accent, Voice, Casting & Audition, Directing, and Stage Combat we are expanding the range with Commedia Dell'Arte, Lessac Kinesensic voice and body and Screenwriting.
Our full time programme provides Actors with a solid foundation of technique and an array of tools preparing them for the theatre, television and film industries.
Please see our website www.gaietyschool.com for more information.
---

Connect with Gaiety School of Acting