With an exciting new MA launched this year in Creative Production & Screen Finance. IFTN spoke with President of The Institute of Art, Design + Technology in Dun Laoghaire (IADT) Dr. Annie Doona, also currently Chair of the Irish Film board.
Discussing the space for a new MA course like this within film education in Ireland. It carries a uniquely focused international appeal that combines creative and business skills including an active industry module opportunity which will be presented on location at the Berlin Film Festival.
Noting on the encouraging increases and huge rise in recent applications for funding and entry schemes to the Irish film board and BAI in recent years. IFTN asks the IADT President about the blending of policies such as gender and diversity across her two roles with the National Film School & the Irish Film Board along with her thoughts on creating those incredibly important hands-on experience opportunities for students learning their craft within film and production in Ireland
In its celebratory 20th Anniversary year, IADT is Ireland's only institute of art, design and technology with a specific focus on the creative cultural and technological sectors.
Alive with ideas, innovation and entrepreneurial activity Dr Annie Doona reveals impressive plans for a celebratory 20 at 20 exhibit and collaborative experience for IADT and it's top 20 past graduates to work with its current developing talent.
IFTN: Do you feel there is currently an appetite and a need for this type of MA course in Ireland?
Dr Annie: I think there's a number of reasons why this type of courses is needed. Firstly we talk to industry a lot as part of the National Film School in IADT and we've found that what the industry needs is people who have the creative skills, the film financing skills and the project skills. So, they are looking for somebody who crosses the boundary between the artistic elements and the classical business elements.
So they are saying that there is a lot of people that are good at one or the other but they need to then when they are in the industry learn the other set of skills.
So this course is really for the people who want to produce but want to have that other understanding of the creative process. So industries have been saying that to us a lot and we know that in Europe there is the same kind of views amongst film industries.
They are talking about the need for people who combine those types of multitasking skills.
So really it came from industries saying that this was the kind of skills. So they would be saying IADT is creating really good creative students, the editors, the producers, the directors, but what we need as they go through their career is for them to have those business skills and the production skills.
We want the creative producer who mixes the business skills with the creativity and the film and screen knowledge.
IFTN: Is this course filling a void that is currently there within industry courses being offered here
Dr Annie: We do modules in screen finance and I think a number of places have tried like IADT have to bring in the business element, but what we are hearing from the industry is that actually at undergraduate level it's about the creative processes with some of the business skills in there.
But really they need to take it to the next level at the masters level and we would imagine that quite a few of the people who would come on this course will already have industry skills. They will already have been in business and been in the industry and it's about honing their skills at the next level.
I don't really think at undergraduate level you can teach enough of the business skills so they are getting the full range of creative and business together and I don't think it exists anywhere at the moment. So I think it's a good opportunity for it.
IFTN: How many people are expected to be enrolling in the course?
Dr Annie: We've had a lot of interest in the course already. We normally aim for 20 people. If you look at our Screenwriting MA, Cinematography MA and Broadcast Production MA it's kind of 20 to 25 a year. It does depend on the discipline.
We would go for 20 as our benchmark in the first year, but we don't know its always dip your toe in the water at this stage when its a new masters. All I can say is that we have had a lot of interest in it already and a lot of support from industry.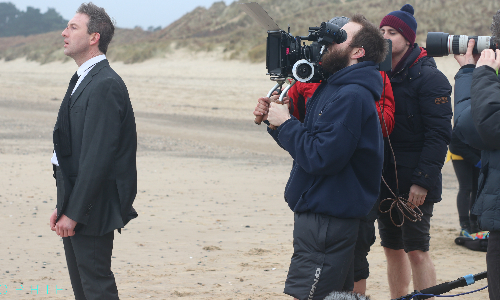 Pictured one of the projects which will feature as part of the IADT Graduate Exhibition 2017 which opens from May 26: Director Philip Ledingham, Director of Photography Laurent Murray, Editor Robert O'Doherty, Film + TV Production Students
IFTN: Will aspects of applying for funding be covered in the new MA?
Dr Annie: As I chair the Irish Film Board, particularly for things like co-productions. I am aware that somebody putting together a film now is looking to Europe and internationally for their funding.
So, I think it's timely that students have that information and ability to approach different funding streams in different countries and put together a production that combines the creative and the business skills. So I think it's really needed, I genuinely do. I think the film industry is more international and more complex now.
Also, there's more and more competition for funding from bodies like the film board and the BAI. So, knowing how to do that application, knowing how to really focus on these business skills is really helpful.
IFTN: From your role as Chair of the Irish Film Board, have you noticed any increases in funding applications and entries to schemes in the past year?
Dr Annie: Yes, we had a film board meeting recently and we were just saying the amount of applications coming in now is huge and that's great because the Irish film industry is thriving, It's successful.
We've had some increase in our funding at the film board, not enough but we are seeing more and more development applications, shorts applications and feature applications it's definitely on the rise.
One of the things we have been very focused on as well is getting more applications in from women. So, we would hope that this programme would also be very cognisant as we are going out and marketing it, to make sure that women in the industry are looking at this as well.
IFTN: With your two roles as President of IADT and Chair of the Irish Film Board, is there any blending of policies that you would be noting the inclusion of within the film industry to educational levels and practice within IADT?
Last November IADT held the 'Young Women in Film & TV Masterclass' which was quite a significant event.
Dr Annie: We did, yes. It's interesting because we work very closely with the BAI, with the Film Board, Screen Producers Ireland and all the bodies within the Irish film industry because it's what we do. We also work with Young Irish Filmmakers and Screen Training Ireland and often ideas bounce across.
So the film board had been talking about gender and diversity and we spoke to them and said, well we could do something with transition year girls because we are ideally positioned to do that.
So we partnered with Young Irish Filmmakers, the film board were supportive of it and we did that 3 day Young Women in Film & TV masterclass.
So things like that do bounce off each other and obviously, in the National Film School we have to be very cognisant of changes to Section 481 [Ireland's 32% Tax Credit for Film & Television] and other laws.
I think all of the industry partners including the Irish Film Board and higher education, we all work together, we all talk together and we share ideas because I think we have to.
IFTN: There was a huge demand and even a waiting list for the young women masterclass event when it was held. Do you think IADT will be holding more events like this in the future?
Dr Annie: Well, we are doing a young women in technology event this autumn which obviously this is technology in general but there will be elements of film in it because what we want to do it start targeting our programmes that are under-represented in terms of girls.
Then, we were talking the other day that we also need to flip that and look at the costume, makeup and prosthetics courses where there are very few guys.
So, to also start saying, okay let's look at those courses that are predominantly female. I mean a lot of our courses in IADT are 50/50. We are pretty good, but there are some like prosthetics, makeup and costume which aren't, so we need to have a look at that as well if we are really going to be about gender equality.
But to go back to the young women and film masterclass we held, the day before it started we were getting parents and schools ringing saying 'Oh please, we've got these 2 girls they would be great for it' and at that point, we had to say look, we're sorry but we've taken in more than we anticipated and we've a waiting list. So it was obviously much needed.
IFTN: IADT's past graduates include recent IFTA winning Best Animation Director Vincent Gallagher 'Second to None'. Is it encouraging for students to see past pupils going on to achieve successes like this?
Dr Annie: Oh yes, absolutely! We get a lot of success in national and international fleadh's, film and animation festivals and it's really encouraging and really important.
We strongly encourage students to put in their work even while they are students into the festivals and we follow our graduates and make sure to put them on our website and we tweet about it when they have success and we get them to come back in and talk about it.
IADT is 20 years old this year. So, in November we are doing an event called 20 at 20. Where we are going to get 20 of our top graduates from over the years and do a film with them and an exhibition.
We haven't got an exact date as yet because we are trying to get everybody together but it's called 20 at 20 and it will be an exhibition of their work and a short film about them and an opening.
This is a good opportunity to say, look at these graduates from the last 20 years and look at what they have done.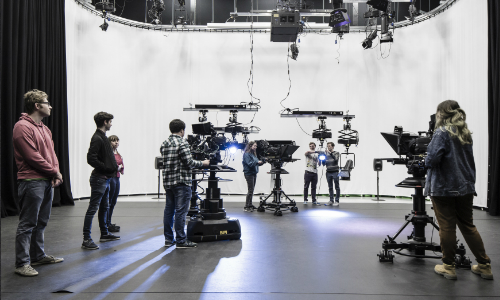 IFTN: Recently musician Finbar Furey worked with the National Film School students on his first music video. That must have been an exciting project?
Dr Annie: That's right. Yeah, it's the kind of thing like the 'Late Late Toy Show' at Christmas with our model makers to Finbar Furey to helping make adverts. Because when we get commercial hires into the studio, we often say can you let our students help, will they take internships and somebody like Finbar was really keen that it was all students. It's a great opportunity for them to get real hands-on experience, it's really important.
What we are planning with the MA in Creative Production + Screen Finance is that the third block of modules, some of that some of that is actually going to be delivered at the Berlin Film Festival.
So students will be at the film festival doing part of their course there and also while there they will be meeting the funders, producers and the distributors.
So we will deliver part of this course in a film festival at the international industry level. I think it's one thing to talk to people about the marketplace but it's another to be in there and to actually be seeing how it works and be talking to people about how it works. We are really excited about that element as well.
IFTN: What is it that you are looking for in the project proposals for those applying for the MA course?
Dr Annie: All we want at this stage is a development proposal and it could be a project around animation, it could be a short film, it could a TV drama, a drama series, a one-off drama.
It's really for them to have something that they can look at and work with to develop. They will develop it creatively and commercially. So, the idea is that they start with something new and by the end of the course they have something that's ready to go. That they have a project that is ready to hit the market.
So we are pretty broad at this stage in terms of animation, TV, film, those kinds of projects. An idea for a project, a proposal is what we are looking for.
A lot of the course will be about working with others to help develop your ideas and spark off various learnings about skills and expertise.
I think the other good thing about this course is that it is 1 year. So, a lot of masters internationally would be 2 years, but people actually just want to come in and have a short, sharp and excellence experience within a year and I think it's better.
If anybody would like to find out more about the MA, Jean Rice is the course coordinator and they can find details on the IADT website and ask us if they have any queries or any questions come in, have a look around, come in and see the studios and come in and talk to us because obviously we think it's a really exciting course and opportunity.
#IFTNTraining: IADT Dun Laoghaire

IFTN Company Profile: IADT