IFTN caught up with Cork's 'Canít Cope, Wonít Cope' Writer Stefanie Preissner, ahead of the first series of the show beginning on BBC Three on Thursday 4th May. Finding out how the writings going for season two, what other projects she's been working on, her 'Sabrina the Teenage Witch' attachment and using humour as her own coping mechanism.
Answering the first question about what she's been up to recently Stefanie responds, "I've written a book which I handed in this morning. I've written a pilot for Channel 4 and also finished the first draft of a feature film for the Irish film board. I've also made a short documentary series with RTÉ player which is called How to Adult and that comes out in May. So yeah, I've been pretty busy."
Wow! Just a little bit. So how does one person be this productive? Stefanie begins to explain her very early morning (4.30am to be exact) wake-up to write time and other factors that help her to focus her energies and time efficiencies into getting stuff done. We then begin to talk about how she feels about Can't Cope, Won't Cope having its first airing to the UK on the BBC.
"Yeah, I don't really know what to expect. It's really cool to have the show on BBC and I'm very excited to bring the characters to a British audience and into another territory but it's one of those things that you kind of feel - Oh my god how's this going to go? - And I'm always a little bit anxious at the start of something just to see how people will respond to it.
"I anticipate that it will go fairly well because they are Irish girls and yes it's a response to something Irish (it's the reason I wrote it), but I think at the end of the day they are just normal girls and all the incidents relate to their characters. It's like the girls in Broad City I don't think feminist or feminine driven shows are geo-locked in that type of way."
Coppers & Nightlife Storylines
"I can only imagine that parts of England like the rest of the world will also have a similar outrageous bar like Coppers that people go to and call home. I think 'going out' is a generational thing rather than a gender thing. I have a lot of male friends who really identified with Can't Cope, Won't Cope in terms of the lifestyle that the girls happened to be creating for themselves and that sort of unwillingness to let go of your college years and step into adulthood with some sort of integrity intact."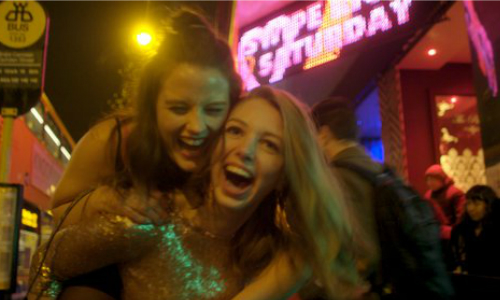 Casting & New Faces
"We were very adamant that we wanted new faces for the show and not the same few actors that had been around RTÉ at the time. It's scary because we were looking for two unknown actors to carry the series by themselves.
"I wasn't involved in the casting but Deadpan Pictures, [the production company that produced Can't Cope, Won't Cope for RTÉ] worked with a Casting Director, Louise Kiely Casting who sent out calls and people responded with tapes and then there were call backs. I think they did a fabulous job of finding the girls as you can see from the show.
"Discussing the casting of Seána Kerslake [Aisling] in the series the actor has had recent success playing the lead role of Mary in IFTA winning Best Film A Date for Mad Mary. Stefanie agreed there are similarities in both Aisling and Mary as characters, but also noted that Seána's previous theatre and acting work kind of goes against the back to back characters that she plays within these roles."
Favourite TV programmes
"Hilariously I don't actually watch a lot of television. I can't watch television when I'm writing and I've been very busy writing so actually it's not that I don't watch television it's that I've been almost too busy. I watch re-runs of friends and re-runs of the US Office, I think those are absolute classics and are master classes in how to do what we do. I have a list stacked up of all the things that people have told me to watch and things that I need to see, which I will get to when I'm not writing.
"Character driven comedies are things that I really love and growing up my big attachment was Sabrina the Teenage Witch and those sorts of female-led young adult things. Nowadays, I think it's great to see female-driven narratives. It's timely and I think it's necessary and I hope there's more to come."
Sharon Horgan
"I've never met her. I hear amazing things about her from people that have though. We were both nominated for Irish Tatler Women of the Year 2016 Awards in separate categories and we both won. [Stefanie was honoured with the Film & Drama Award and Sharon Horgan was recognised with the Entertainment Award for her writing talent on shows Catastrophe & Divorce ] So, people always assume that we met each other that year because we both won but, she [Sharon] wasn't able to attend due to work in the States. I'm really looking forward to meeting her I do think it will happen at some point."
Secondary School English Classes & Writing Style
"I didn't see a place for sarcasm in English when I was at school. I had brilliant English teachers and they cultivated an appreciation for classic Irish poets and adjectives that I now find superfluous to a sentence.
For example; trying to describe how 'the curtain billowed majestically against the window' - whereas my style is that I'm all about the information - 'the window is open so the curtain is moving' - obviously that's what I would want to say but I never did because I was always corrected. It had to be 'tell us how the curtain is moving?' see how many adjectives you can fit into the sentence and then you are good English students.
It actually damaged my confidence for a little while and I had imposter syndrome for a while too. I trained as an actor and then I started to write and I was getting quite a lot of work as a playwright and I would say yes, but I'm not a writer. I'm an actor but I wrote this but I'm not a writer. I thought that to be a writer you had to have patches on the elbow of your sleeve and use long adjectives."
Writer Identity
"I knew that I was good at it before I really accepted that it was my job and it was actually on a boat on holidays in Turkey one day when I was with my friends that it clicked. A stranger asked us where are you from and what do you do? We answered the normal about being on holidays for the laugh and my response would've usually been 'I'm an actor from Cork' and I noticed myself saying without even realising and thinking about it that 'I was a writer and I lived in Dublin'. And for me that moment when I just said it instinctively I was like oh, okay. Well, I suppose that's true then. Soon enough after that holiday then, I was at a doctor's appointment and I had to fill in a form and write in my occupation and since then I've identified more on the writer side of things."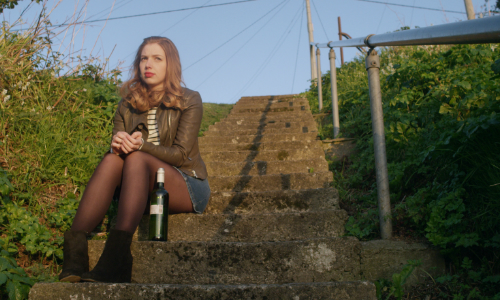 Stand-up Comedy
"I cannot think of anything worse. It so funny because people ask me this all the time but I just can't relate to the impulse of wanting to do that as I don't see myself as funny. I don't try to be funny, but I think for a stand-up comedian that is their job to be funny and make people laugh. I don't have the confidence to be sure that I can make people laugh.
"It's a coping mechanism, I use humour as a defence mechanism and it just so happens that enough people also do that and for awkward experiences, it reads as funny.
"I think comedians are so brave. It would be my worst nightmare. I do have nightmares, where I am in front of an audience, having promised them that I will make them laugh and nobody is laughing. It's so scary."
Career Choices
"I think people who follow themselves and follow their passions outside of things are great. In Ireland, we have this thing of the 'Plan B' that's to go and get a degree before you choose your career in the arts to make sure you are safe. I think a lot of people have been almost scare mongered into making career choices for themselves that kind of stultifies their creativity. I think anyone who is brave enough at any age to go 'you know what I'm going to give this a try', I think fair play."
Writing Series 2
"Writing for series two is going well, with Can't Cope, Won't Cope series one back airing on RTÉ recently it's given me the fire I needed to be like okay now I'm going to watch all these episodes again and I'm going to power on.
"So, I'm back full time on Can't Cope, Won't Cope season two having had a bit of hiatus from it. So it's really exciting.I know where the series is going and I have the first two episodes of season two written. I'm currently in the middle of episode three.
"It's just really exciting to get back into those characters and hear those voices again having been away from them for a couple of months. It's a really cool opportunity, because in season one it's all about my brain, my idea and me creating a show. Then for season two you have to take into account other people's responses to things.
"One thing I did when I was putting together season two was I went onto twitter and I looked at all of the tweets about the show. It's a stupid thing to do but I think as a writer it's kind of inelegant to rebuff every single criticism of your work and there are criticisms that need to be heard.
"I have heard some of them and I have incorporated them. Once people invest in your show as an audience and they start to like it, then you can't have this sort of self-driven almost narcissistic view that you had in season one of this is my show. It's also like, well people have liked it and people have invested and that's the only reason I get to write the second season so I have an obligation to take the audience into consideration, I suppose."
New Characters & Places
"Yes, of course! These girls are, as you saw in season one always up for adventure and their not too routinized yet so we'll definitely be seeing new places and new faces that's all I can say about that.
"We'll see how far away from Montrose RTÉ will let us go, last year we had to go to Sutton instead of Mallow and pretend it was Mallow. So yeah, we'll see how far we get this time."
Writing Process
"I wake up every morning at 4.30am and I write until about 9 or 9.30am and then two days a week I go to kickboxing. Or I'll have to go to a meeting or I'll to sign a contract, meet an agent or do some interview like this. Then I would usually meet someone like one of my friends for coffee or lunch in the afternoon then do some writing again and then I'm in bed really early. So that's what works for me now.
"I just found that in the evening I wasn't doing anything productive. I was just sitting on my phone, watching television and also tweeting and that's all just a waste of my time. So I took those hours from off the end of my day and attached them onto the start. That's the only way I'm able to be as prolific as I am because I'm uninterrupted for those hours. My agents are in the UK and I'm also represented by United Talents in Los Angeles, so I get to be in communication with them at the end of their day so it just kind of works."
So aside from currently writing season two, other projects that we can expect to see from Stefanie Preissner this year or in the near future include the following; "I've finished the first draft of the screenplay for Parallel films and I'll probably do another draft but it's all up in the air I can't really talk too much about it. The book I've done is called Why Can't Everything Just Stay the Same? The book is a memoir, it's compiled of essays that I've written about how I experience the world. How much things have changed and how I hate change," finished Stefanie.
Her new short documentary series for RTÉ player How to Adult will soon be on our screens this month, keep an eye on IFTN for further updates on Stefanie's work and the release dates for her many projects.
The first series of Can't Cope, Won't Cope produced by Deadpan Pictures for RTÉ is currently airing Monday evenings on RTÉ 2 at 22:35 and begins on BBC Three, Thursday 4th May.