IFTN spoke to Justin Binding, Commissioning Executive for BBC Northern Ireland to learn more about its documentary strand True North. Finding out how it plays an important role in the storytelling of a contemporary Northern Ireland and its relationship with upcoming new directors.
As Commissioning Executive for BBC Northern Ireland for more than five years. Justin works with both the independent sector and in-house production. He runs BBC Northern Ireland's commissioning and development slate across all programmes and is the first point of contact for the submission of new ideas and proposals. He has been Executive Producer across a range of genres from documentaries, specialist factual, features, arts, observational-documentary, history as well as comedy, entertainment and factual–entertainment programmes.
IFTN: As Commissioning Executive for BBC Northern Ireland, can you explain what True North is and what it's about?
Justin: "True North for us is a really important strand, because it exists to celebrate contemporary Northern Ireland. In particular hidden worlds that we wouldn't normally see in our output on BBC One Northern Ireland.
"It's a strand that we have purposefully placed in a very contemporary post-troubles Northern Ireland as a way of us being able to give oxygen and shine a light on the parts of Northern Ireland that have largely been hidden up until now."
IFTN: How do True North commissions differ from other Northern Irish content & programmes that are made for the BBC?
Justin: "I guess, in terms of our factual output a lot of what we do is big landmark documentaries and this is our contemporary single documentary strand. So it feels very different in that each week you might get a very different theme.
"There's no clear agenda with the strand it is very serendipitous in that sense. You'll see parts of Northern that you may not be familiar with but it is often unseen elsewhere on our output."
IFTN: Is the True North strand focused at a particular generational audience?
Justin: "We wouldn't suggest it focuses on just any particular generation, but we are conscious that we are trying to appeal to both our mainstream audience and a broader younger audience. I think it just feels younger because it's more contemporary than many of the other things we do.
"We have a difficult task in trying to appeal to our main core audience and the latent audience. Editorially we tend to hone in on themes that we think are quite Northern Irish but are also quite universal as well.
"True North features compelling stories that are situated in unexpected precincts and worlds, but often with universal themes. I guess we would hope that our Northern Ireland audience enjoy the films and also, if they happened to be played out anywhere on RTÉ or across the wider UK we think the audience would enjoy the film as well. It's that universality of what we're trying to get to which is important too."
IFTN: When was the True North strand commission launched?
Justin: "I've been looking after it since the beginning. The first ever one was 'The Miraculous Tales of Mickey McGuigan' and that TX'd back in autumn 2013 and we are now in our eighth series. So we tend to have two runs per year with about five or six films and we do it twice once in the summer and once in the autumn."
IFTN: Why is True North important as a documentary strand?
Justin: "As with all True North films they will gain an insight into a part of contemporary Northern Ireland. We will be given an opportunity to glimpse inside a hidden world. I think that's what we try to do with every True North.
"There are things that are happening adjacent to your life but probably not a part of your life. The idea with True North is that you get a little thirty minutes where you can immerse yourself in somebody else's world that you may have heard of, but you've never actually had a chance to see inside. That's what we try and do with True North.
"For example; something like 'More than a Flag', gave us an insight into the bands in East Belfast. 'The Joy of Sets' likewise gave us an insight into the oldest and most dedicated step dancers in Northern Ireland. As you can see we always give directors the opportunity to take us places and it's nearly always directors that drive these narratives and I think that's a really important message about the strand."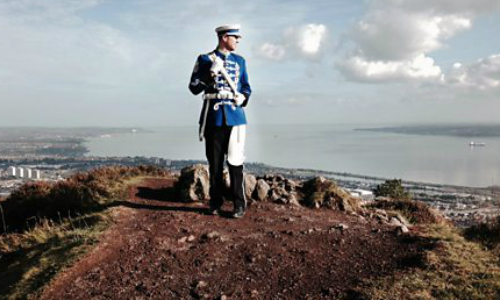 IFTN: Can you tell me a bit more about True North & its relationship with Directors?
Justin: "We see True North very much as an emerging director's strand and it's our directors that are given the latitude to make the film that they want to make. When they sell us the compelling access or the compelling insight then we very much let them drive that storytelling. It's very much a director's strand and through that we have developed a range of really exciting and new directors.
"We're interested in all directors. They've to have a compelling idea but they also have to some experience in making not films per se but maybe they've been assistant producing or have made packages or just be working in the sector but haven't made their first film. We like directors that are in that position because they usually have something fresh to offer."
The BBC Northern Ireland Brand Book is available as a PDF for anybody interested in learning some more background about the strand and it's content. "It's a good way of guiding producers into what it is, that we hope they will offer us," Justin Binding noted.
The next episode in the current strand 'True North: Jobs for the Boys' looks into why Protestant boys from working-class areas are underachieving in school. Following three unemployed young men from East Belfast as they embark on a pioneering educational project that could change the course of their lives. It airs Monday 13th March at 10.40pm on BBC One Northern Ireland.
For more information on the True North strand you can visit the BBC website.