Pat Shortt's latest two part show, Sergeant Mattie is broadcasting on RTÉ One on the 26th and 27th of December. The show catches up with Garda Mattie Dwyer as he is promoted to Sergeant and sent back from the city to his home in Kilcommon, Co. Tipperary where crazy antics are sure to ensue.
Before the show broadcasts IFTN caught up with Pat to discuss the series, his latest part in Lance Daly's highly anticipated new movie 'Life's a Breeze', his obsession with explosions and what 2012 has in store for the comedian who is loved by audiences up and down the country.
IFTN - Sergeant Mattie is broadcasting on St. Stephen's Day and the 27th December, what can you tell us about the new series?
Pat Shortt – Well, it is two new episodes which we have worked on and I am very excited about it to be honest, we are trying out different things with Sergeant Mattie. It's a great idea and great concept and I suppose we brought him into the city in the last series and in these two episodes we are bringing him home and moving him out to the country. It's getting back to the madness of Killinaskully and the daftness side of it.
There are a couple of new things we have done. We have new characters in it too, Maria McDermottroe, is back working with us, as is Mary Harvey. People I have worked with before and great actresses, as well as Andrew Bennett and Sue Collins - bringing more of the mad cap zaniness into it. Mattie has moved back to this village where he is from and, I suppose, in the city everyone is normal and Mattie was a bit daft, this is bringing him back to where everyone is absolutely daft. It's good; it is giving us more room for slapstick and more madness. I just think it works; it works very well with the character.
IFTN - How was the filming of Sgt Mattie, where and when was it shot?
Pat Shortt - We did it over the summer; we did it in Kilcommon in Co. Tipperary and in our own studios in Limerick. It was quite a short shoot, about two to two and a half weeks of a shoot in total. It was good fun doing it. It was great getting back out to the country shooting again. Anyone will say working in the city and working in the country, shooting it is just so much easier in the country. There are just less people around, fewer things that can go wrong. You are not fighting with sound; you are not fighting with all sorts of issues, traffic for example, taking over places. Generally speaking down the country people are more open to film making, that is because there is not as much of it but in Dublin and that there has been so much stuff going on over the years, any film crew will tell you it is getting increasingly harder. It's not as exciting.
IFTN - You are in Lance Daly's new film 'Life's a Breeze'. What can you tell us about your character Colm?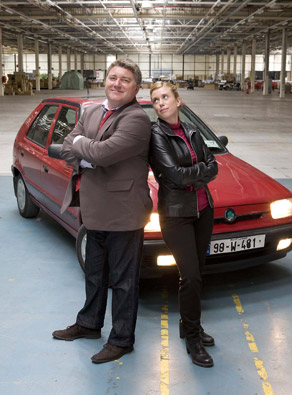 Pat Shortt and Lesley Conroy in Mattie
Pat Shortt - Well Colm, he's a likeable rouge I suppose in one sense. I know that some people who read the script said they got a feeling that there was an evil trait to him, I don't think there is and that's not the way I am playing it. It is more that he is a character that has overstayed his welcome at home, living with the mother, he still seems to be living there and he's selfish more than anything else. He is a selfish auld rouge and he is a harmless mishap of a poor misfortunate, nothing goes right for him. He does up the house for the mother and in doing so throws out her mattress and in that is her life savings and that is kind of what the story is based in around. It is a great story.
I suppose he would always argue that he is doing it for the mother and the family only gives out to him and he says to remember he is only doing it for the mother - but he was in his hole! [laughs] He was doing it for himself and his room probably got done up better than anyone's but that kind of explains the character he is, misguided.
I am really enjoying working with Fionnuala Flanagan, she is just an incredible actress and she has so much experience. It's been wonderful working with her, and Lance Daly for that matter. It's been tough now because we have been shooting out in the cold constantly and it has been bitterly cold in Dublin over the last while. We are after shooting in landfills and dumps and everything, ah Jesus they are not the most glamorous places in the world, far from it so that has been hard. We are into the studio in Sweden after Christmas and that will be warm and nice.
IFTN - How did you get involved in the film, was the script sent to you?
Pat Shortt - I know my agent had been talking to the guys for the last few years and so they were aware that the film was coming up and I think Lance had shown an interest in me about getting involved at an early stage. So I met him over the summer and we chatted about it and ya he was keen in getting me involved. It's great and it is exciting and it's good to be involved in it.
IFTN - You and Jon Kenny got back together this year to do a tour of the D'unbelievables. How was that?
Pat Shortt - We sure did. It was a great tour. It was brilliant. It was grueling; again we only planned to do two dates in most towns and ended up doing four or five dates and six dates in some places. It turned out to be very successful and it's great fun getting back out on stage and doing a show that I hadn't done in sixteen years. It was back to the madness of what the D'unbelievables was all about, that was our first big show for us and it was also the first big audience participation show we'd done and we toured the world with that show, all over America and everywhere. So it was really a bit strange getting back to doing it but it was amazing that the comedy stood up nearly 20 years later. The show was a very good show. So we filmed it and it is out on DVD for Christmas, we filmed it up in Castlebar. We filmed it in April, just in time for Christmas! But it was good, it was great craic too. First time it was ever on DVD too which is great.
IFTN - Do you notice a difference between TV and film, and doing stand up?
Pat Shortt - There is a huge difference. I mean TV is very different to film as well. TV is fast paced when you are filming it and it is much quicker, just in terms of turn around time etcetera. You don't have as much time to rehearse and work on things for TV and, having said that, some producers might say you spend too much time rehearsing on a film. I suppose performance wise, the screen is bigger you know, and that sounds like the most obvious thing but your performance tends to be more subtle in film because you are bigger on screen, you don't need to be  loud and big and all sorts. You do find different levels of performance – it's interesting getting back into film again and just pulling everything right down.
Then stage work, you know, it is the instant gratification when it is working for you, the audience is there in front of you and that is the one thing you don't have in film and television. Especially with comedy that is important, if you are wondering if it's working or not. We have got a laughter track on Mattie this year for the first time and I think it really really works. I am sorry we didn't do it in 'Killinaskully' before as well but I didn't want it in 'Killinaskully' because of the style of it. It does give you something there that a live audience would nearly give you which drives on the comedy. I think in comedy it is important to have it. It's interesting, I wouldn't have been sure of it before but then we had a really good engineer working on it, Killian Fitzgerald. He comes from an English background and has worked in studio television environments as well as mixing. He did a great job in doing the soundscape afterwards and I think it makes a huge difference.
IFTN - Do you prefer one over the other - film and television?
Pat Shortt - I don't know. They are both different. They are both enjoyable but there are not that many films in Ireland which are blowing things up and doing stuff. We do a lot of that in RTÉ and on TV. You get to do stunts and all sorts of mad stuff, while a lot of films that have been done in Ireland are not on that scale and budget; you know that type of movie. So it is great doing television because you get to blow up things. Sure we are all doing it in this business, looking to live out our childhood fantasies.
IFTN - You had a part in 'The Guard', what do you think of the success it has had over the last year?
Pat Shortt- It's phenomenal. It's incredible and it is great for Irish film. It brings the focus on Irish film again now you know with Brendan Gleeson up for a Golden Globe Award. I mean that just brings the focus back to Irish film and 'Albert Nobbs' as well of course. 'The Guard' in particular though, it's very Irish so I think it is a fantastic piece. You never know with these things if they are going to be a success or not and when you are making a project you never think of that. You can have great fun making a project but sometimes all the laughing on set might not be a good thing, you mistake that for the film being good and sometimes it just doesn't transfer onto film. Sometimes a really good script doesn't transfer onto the screen. I have seen that happen loads of times so I am always very wary. It was a good script, it was great craic making it and there was great fun there. From my prespective I was out one of the days it didn't rain, I heard it was some of the wildest wettest west of Ireland days on the making of 'The Guard'. I thought Don Cheadle was amazing in it as well, I know everyone is raving about Brendan but then the supporting Irish cast was fantastic, and David Wilmot was just stunning in it. They were all good, everybody was good in it in their own parts and I think that is what makes a good movie.
IFTN - Are you taking a break for Christmas?
Pat Shortt - The only thing that I am doing live over the Christmas is the New Years Eve with Gay Byrne, doing a spot with him on that but then I'll have a few drinks and relax.
IFTN - What are your plans for 2012?
Pat Shortt - I have big plans actually, I have got a new live show that I am working on and when I finish on the filming in Sweden I'm coming back to Ireland and getting stuck into just writing and developing a new show and Mattie. RTÉ are very excited about Mattie, it is really really good and hopefully there will be funds in there to make it this year. I think the plan is to make it during the summer but as you know things change and new things come along, you just never know.
It is a busy year and I have a tour lined up for the autumn, a big tour of Ireland and abroad. I have been working on it for the last while. Every three years I write a new live show, and this is one of those years so I am very excited about that. This is the year. I have been working on it for the last few months and what I do, in between projects, is I'd be writing in hotel rooms and working on the ideas and everything else, and then I just take a block out and get into the studio and work it out. So that is what I am starting in February, March and then take it around venues in April and then a few filming projects over the summer. Doing new stuff the whole time is always very exciting and then other stuff will come in, there are other projects out there that haven't started yet but they are close to the end. There is a lot happening.
'Sergeant Mattie' was directed by Peter Foott (Republic of Telly, Horse Outside). It was written by Pat Shortt, Mike Finn (Inside the Crystal Ball, Killinaskully) and Dave Cummings (Parents of the Band, Hustle). It was produced by Pat Shortt of Gable End Media and Brian Kelly (Inside the Crystal Ball, Summer of the Flying Saucers). Director of Photography is Michael Lavelle (His and Hers, Revelations).

The offline edit was done by Declan McGrath (Killinaskully, Proof)and post was done in EMC by Eugene McCrystal (Adam and Paul, Freeze Frame). Sound was done by Killian Fitzgerald (Inside the Crystal Ball, The Consumer Show) in Avatar.