IFTN caught up with the young Donegal actor Art Parkinson, 'Game of Thrones', 'Dracula Untold' just before he jetted off to LA for the Annie Awards ceremony on the 4th February. He is nominated for Outstanding Achievement, of Voice Acting in an Animated Feature Production for his work as the main voice lead of Kubo in the Laika production 'Kubo and The Two Strings'.
It's not every day a 15 year old gets to leave their junior certificate books for a day, and fly off to a prestigious awards ceremony in the States. For Art however, it's just the start of many coming into the awards season as the animated feature film 'Kubo and the Two Strings' already has a wondrous waiting list of nominations from Oscar nods to Bafta's to name a few.
The Annie Awards ceremony is held at UCLA's Royce Hall in Los Angeles, California it is recognised for being the highest honour given for excellence in animation. With Laika's 'Kubo and The Two Strings' nominated for an amazing 10 Annies this year in various categories including; Best Animated Feature, Outstanding Achievement in Animated Effects, Character Animation, Character Design, Production Design, Storyboarding and Directing for Laika CEO and director Travis Knight to list a few of the categories it has been nominated in.
You get a feeling that Art's first debut to an animated feature film, has been one which will be regarded in high esteem. The team at Laika spent a total of five years at their main studio base in Portland, Oregon working on the production of the stop-motion adventure animation. With Art joining in the voice recording process for Kubo when he was just 12 years old.
IFTN spoke to the Moville actor after he had finished school for the day. Art attends Colaiste Chineal Eoghain in Buncrana, a small local Irish speaking secondary school in Donegal. As a fluent Gaelic speaker Art was chosen as an ambassador for Seachtain na Gaeilge 2017.
Luckily Art found some time to spare, between his homework and evening French lesson to have a little chat about his feelings ahead of the Annie Awards. He discussed what the nomination means to him and his overall experiences so far as a young Irish actor.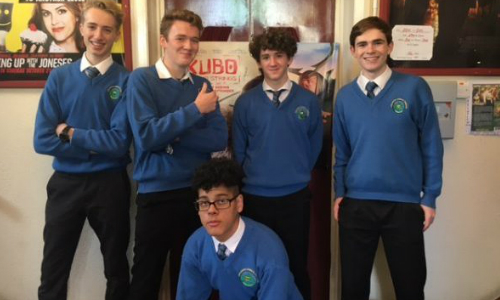 IFTN: Firstly Art, massive congratulations on your Annie nomination for Outstanding Achievement, for Voice Acting in an Animated Feature Production. You are the youngest person nominated in this year's category up against the likes of Zooey Deschanel 'Trolls', Jason Bateman 'Zootopia' and Auli'i Cravalho 'Moana'. How do you feel about the nomination?
Art: "It's a bit mental really, because you see some of the biggest animations of the year, and there have been so many amazing actors involved in them. So until something like this happens, you can have so many people telling you how well you did in a role, but you don't really believe it as much until you get recognised for it and being recognised by such a prestigious awards committee as the Annie's is incredible. They really are the top dogs when it comes to the animation awards."
IFTN: 'Kubo and the Two Strings' has a total of 10 Annie nominations which is great news for the film. Are you proud to be a part of such a well-recognised production team?
Art: "It's definitely something to be proud of, to be a part of it and having watched over the past five years what the team has been working on. Even though I wouldn't have been there the whole time, for all the stop-motion and CGI. I was there for a good six month period going back and forth to LA. They always kept me up to date with box sets of all the work they had been doing and it was just class!
"When we were in Oregon visiting the Laika studio in Portland, we got to go and see bits of the creating going on behind the scenes towards the making of 'Kubo and the Two Strings' it was just amazing. It just takes so much patience, it would probably turn the average person mental. So it is class to see that everybody in that team is getting such recognition.
"It really puts it all into perspective, you never really think that you're going to be able to be part of such a talented team. Then, when you do finally get the chance it's such an experience. From day one we kind of knew what we were working with. I remember walking into the studio and being able to talk to our director Travis Knight and it was just crazy.
"Coming from live action films, where I was sort of comfortable and then being able to slip into this new world, I was very nervous. I had never worked on an animation before of any type. I'd only ever done ADR [Automated dialogue replacement/dubbing] recording. I'd done a lot of work with ADR but it could never prepare you for animation recording, or so I thought.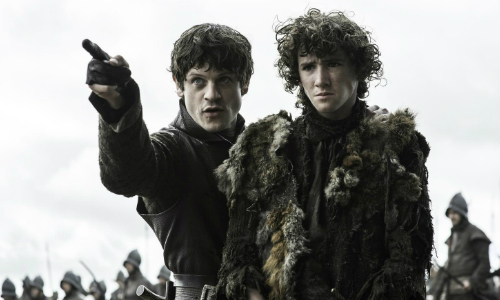 Many people may recognise Art for his role playing Rickon Stark the youngest Stark sibling from the 'Game of Thrones' series which he played from the age of 7.
"Being flung into the middle of this great team, that I had been told so much about by one of my fellow colleagues on 'Game of Thrones' , Isaac Hempstead Wright [plays Bran Stark] was surreal. Isaac had done a production called 'The Box Trolls' with Laika and he'd told me everything about them.
"But you never thing you're up to scratch and good enough to work for such a talented team and it was great to finally get the chance."
IFTN: What was it that drew you to 'Kubo and the Two Strings' when reading the script?
Art: "Well Kubo and I are very very similar. He is very close with his mum, and so am I. My mum and I, would be away for very long period of times when I'm working on filming. So, we spend a lot of time together and we are very close. And also, Kubo is a storyteller. So as an actor I'd like to think of myself as a storyteller. Kubo brings his stories to life with his Shamisen and his origami and I'd like to think I do that through my vocal and facial expressions when acting."
IFTN: Are you any good at origami?
Art: "I've tried a couple of times and I'm not too good at it. I did however, get to see a Shamisen [traditional Japanese instrument Kubo plays] whenever I went to do a tour of the studios in Portland, Oregon.
"Before I took on the character I actually did a lot of study into Japanese culture. I just read loads of book and talked to people. It's really mind opening learning about other cultures, because I'm so immersed in my own culture being an Irish speaker and a Gaelic football player. You never really look around and think 'oh I'm going to learn this culture', but then you get a character that is in that culture and it was really interesting. On the way over to the press junket in LA, I bumped into a Japanese man and we were able to discuss different things about his culture and it was really eye opening."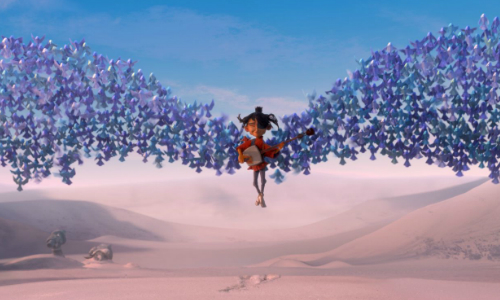 IFTN: Your voice was chosen by Director Travis Knight out of hundreds of blind auditions. How did that feel? And is it true that that you recorded your audition on your mum's iPad?
Art: "It's crazy. It's kind of humbling really. I was in the middle of a couple productions at the time and hadn't been home for a few months as I was working on the film 'Dracula Untold' we were half way through that production. Which was a long one, it was five or six months. So we were there, and Mum said 'you've got this audition from Laika' and I'd heard all about them from Isaac so I thought jeez' that's class!
"So I read over it and got the script and got a feel for the character, and then mum and I sat down in the front living room. Yes, we recorded it a couple of times on her iPad and went back over it then recorded it again and sent it away. Then sure enough, a couple of days later they wanted to hear a few more tapings. It was crazy! To feel so welcomed into a company like Laika."
IFTN: Did you learn anything about yourself from playing the character of Kubo?
Art: "I did find myself with a new sense of forgiveness after playing Kubo. That and my research into Japanese culture for the role really opened my mind up to new knowledge."
IFTN: As the recording was done individually did you find it hard to act in a room with just yourself and no other cast members to play the script off?
Art: "It can be quite difficult and they do bring people into the room to read through the line with you and reply to and stuff. If they didn't you'd just be kind of talking to yourself for about nine hours of the day. It can be particularly difficult whenever you might be dealing with a feminine character in an emotive scene and you happen to be speaking across to a masculine man reading their lines. Learning how to get used to it, I find comes with flipping into the mind-set of the character and using your own imagination and translating the message of the scene, which is very important for me."
IFTN: Did you find you had to try harder to immerse yourself in the acting role as you weren't physically and visually in the role?
Art: "That's one of the difficult things about animation in general, is that you don't actually get to be physically on set and in the characters shoes. For Kubo I had to work off the different diagrams that I was given and pictures of the set and different puppets of his character."
IFTN: Between recording sessions of 'Kubo and the Two Strings' you went to Australia to work on the film for 'San Andreas' with the 'Rock', Dwayne Johnson. I heard that your voice had dropped between recordings. Did you have any challenges continuing with recording after that?
Art: "Yeah, that did happen. Basically a couple of days after I got back from Australia we went to LA to record some more pieces for Kubo, and I walked into the studio and Travis [Travis Knight, Director] walked up to me and he said 'Hello Art How's it going' and I replied and I could sort of see his smile drop a wee bit and at that point I kind of knew that he thought something had changed in my voice.
"So we went into the studio anyway, and we were running over a couple of lines and sure enough it wasn't as high as it needed to be. But we were able to work around it and I had to just go a bit higher with my natural voice. There was nothing I could really do about it. Just puberty [he laughs]"
IFTN: Would you be interested in doing any more animated roles?
Art: "I say I definitely would yeah. It's something I find very interesting. It's very difficult, but at the same time it's a completely different thing for me from live actions. I'd definitely go back and have another pop at it yeah."
IFTN: Are you a fan of any particular cartoons or animations?
Art: "I'm a fan of a couple of animations, older ones like 'Coraline' with Dakota Fanning and I also really like 'The Lion King' and all that stuff."
IFTN: Apart from the big Junior Certificate. What other work projects is Art Parkinson going to be working on in 2017?
Art: "Well I've a couple of pick-ups left to do on a film I've been doing called 'Zoo', which I shot during the end of the summer. So I've a few days work left on that. Then there's another few things I can't talk about yet, but apart from that it's awards seasons and yeah I've got my junior certificate in the summer so it's all pretty busy."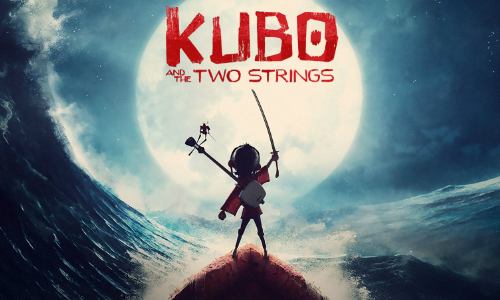 IFTN would like to thank Art for taking the time to speak with us for this interview and we wish him and the 'Kubo and the Two Strings' team all the best of luck at the Annie Awards. Plus all the other awards the film has been nominated for during this year's busy awards season including its Oscar Nomination for Best animated feature & Best visual effects. The Oscars will take place on 26th February in The Dolby Theatre, LA.
Other Irish nominations at this year's Annie Awards include Irish animators Cartoon Saloon for 'Puffin Rock', the children's animated cartoon narrated by Chris O'Dowd. It is nominated in three categories including; Best Animated Television/Broadcast Production For Preschool Children, Outstanding Achievement, Production Design in an Animated TV/Broadcast Production and Outstanding Achievement, Writing in an Animated TV/Broadcast Production.