We caught up with Irish director Daniel O'Hara to discuss the success of his latest project Stay Close, which currently holds the No.1 spot in Netflix's Global Top 10 for TV.
O'Hara discusses his career to date, from cutting his teeth on The Clinic (2006), to TV dramas like Skins (2010), and the importance of developing working relationships with writers on shows such as Doctor Who, Being Human, and Safe.
Stay Close follows on from Netflix's hugely successful adaptation of Harlan Coben's The Stranger in 2020. The production saw O'Hara (Brassic, Doctor Who) reunite with Red Production Company to helm the upcoming series alongside Lindy Heymann, who also directed episodes of the show.
"The response from the Netflix audience has been incredible," O'Hara told IFTN. "Stay Close is the most watched show in the English language on Netflix worldwide, it's in the top ten in more than 70 countries and after only 3 weeks on the platform, viewers have spent over 176 million hours watching the show."
"Those are mind-boggling numbers and it's still going strong. I'm absolutely thrilled, especially after such a challenging shoot during the pandemic," O'Hara added. "It was a mad year. We started filming in February, which was the depth of the second big lockdown, but our cast and crew pulled out the stops and did an amazing job."
Not only has Stay Close been a resounding success, but in Ireland it has also seen audiences return to previous Harlan Coben projects including Safe and The Stranger, both of which O'Hara directed. "It's been great to see the rewards for (our hard work on Stay Close) and a nice surprise to see the other Harlan Coben shows, Safe and The Stranger, coming back into the Top 10 on Netflix as well!" said O'Hara.
Author Harlan Coben has a five-year deal with Netflix, which has already seen several of his bestselling books adapted into hugely successful TV dramas, that meet the profile of bingeworthy content. This is something the Irish director puts down to way in which Coben's books are written.
"It's funny, you're right about the bingeing," O'Hara agreed. "They really lend themselves to that watching in one or two hits, over the space of a week."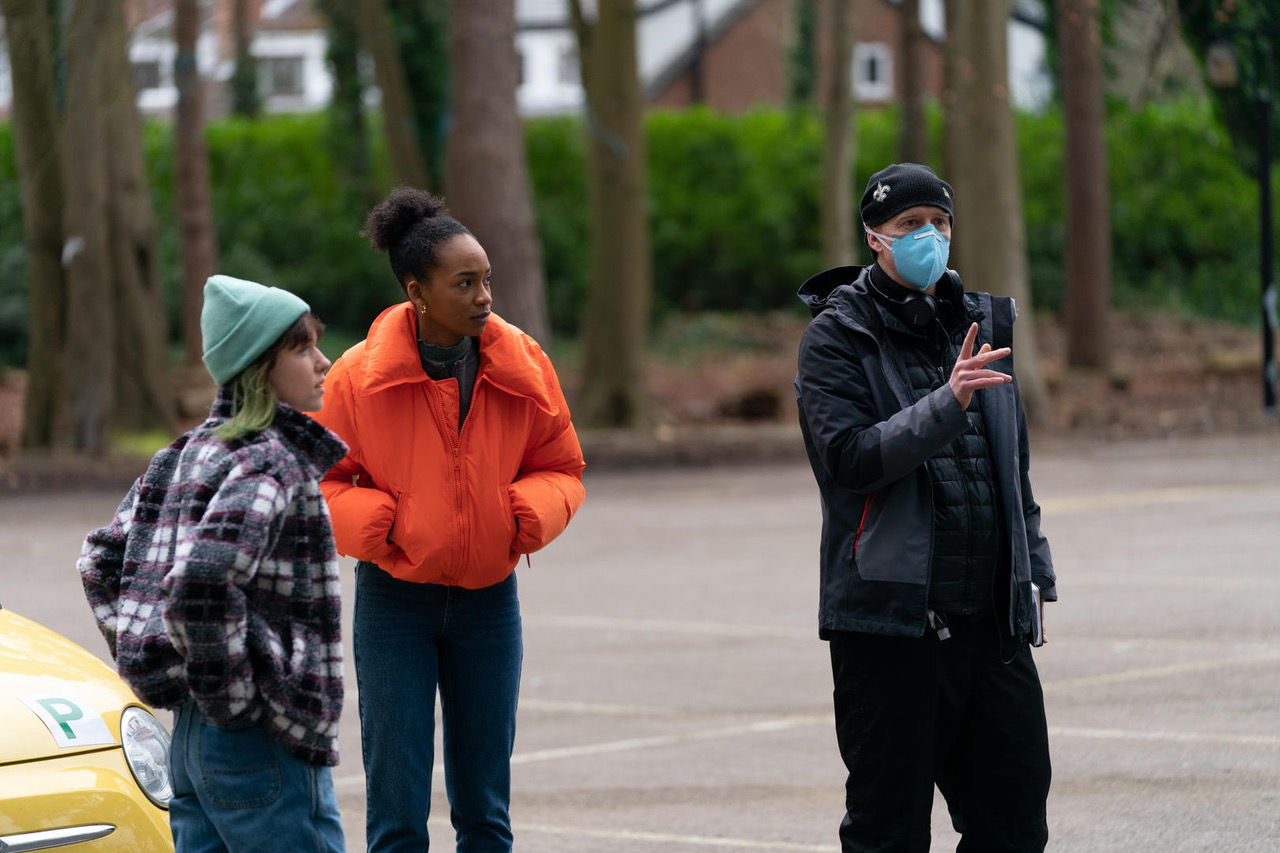 Bethany Antonia and Rachel Andrews with O'Hara
"I think that's very like Harlan's books, I think the books are unputdownable page turners," O'Hara explained. "Harlan always says he takes pride when someone says, 'I was just going to read a couple of pages before bed,' and then at 3:00 in the morning they're cursing him because they just kept going."
"I think the show is like that and I know we've talked about similar shows on other channels or platforms that are once a week and realizing that it's quite a challenge to keep people's attention in a tight space of time," O'Hara continued. "If you're going to binge it in that tight space then the pace of it must keep up, the engagement, the twists, all that stuff has to keep up."
With so much content moving to ad-free SVOD (Subscription Video-On-Demand) platforms, productions intended for streaming platforms now have the added option between a scheduled weekly release or dropping the entire series in one go. This however brings with it the added consideration over how the show intends to keep the audience at the end of each episode.
"I think as we're finding out, there are no rules and as soon as there is a rule, it will be broken and changed and adapted and reinvented," O'Hara told IFTN. "You mentioned about the stranger hooking people in for an intense period, I think show need to engage people like that. If you don't, you lose them and they just they won't come back."
This has continued to be a proven strength of the Coben's adaptations for Netflix as each show has huge viewing figures in the opening weeks of each limited series being launched.
"I think that is taken from Harlan's books," said O'Hara. "That's his strength really in terms of those hooks, especially when he's got alternating storylines, you might have a hook at the end of a chapter. Then the next chapter is a different character."
"It gets you through and then you get to the end of that chapter with another hook and then it's like you're picking up on the hook that you left back here," O'Hara continued. "It just keeps going and I think the shows are a bit like that as well. I think especially with Stay Close more than The Stranger, there's parallel stories with the different characters.
Stay Close features a cast including Northern Irish actor James Nesbitt and British actress Cush Jumbo in leading roles with Richard Armitage returning in a supporting role following his leading role in The Stranger. Other cast includes Sarah Parish, Eddie Izzard, Jo Joyner, Daniel Francis, Bethany Antonia, and Rachel Andrews.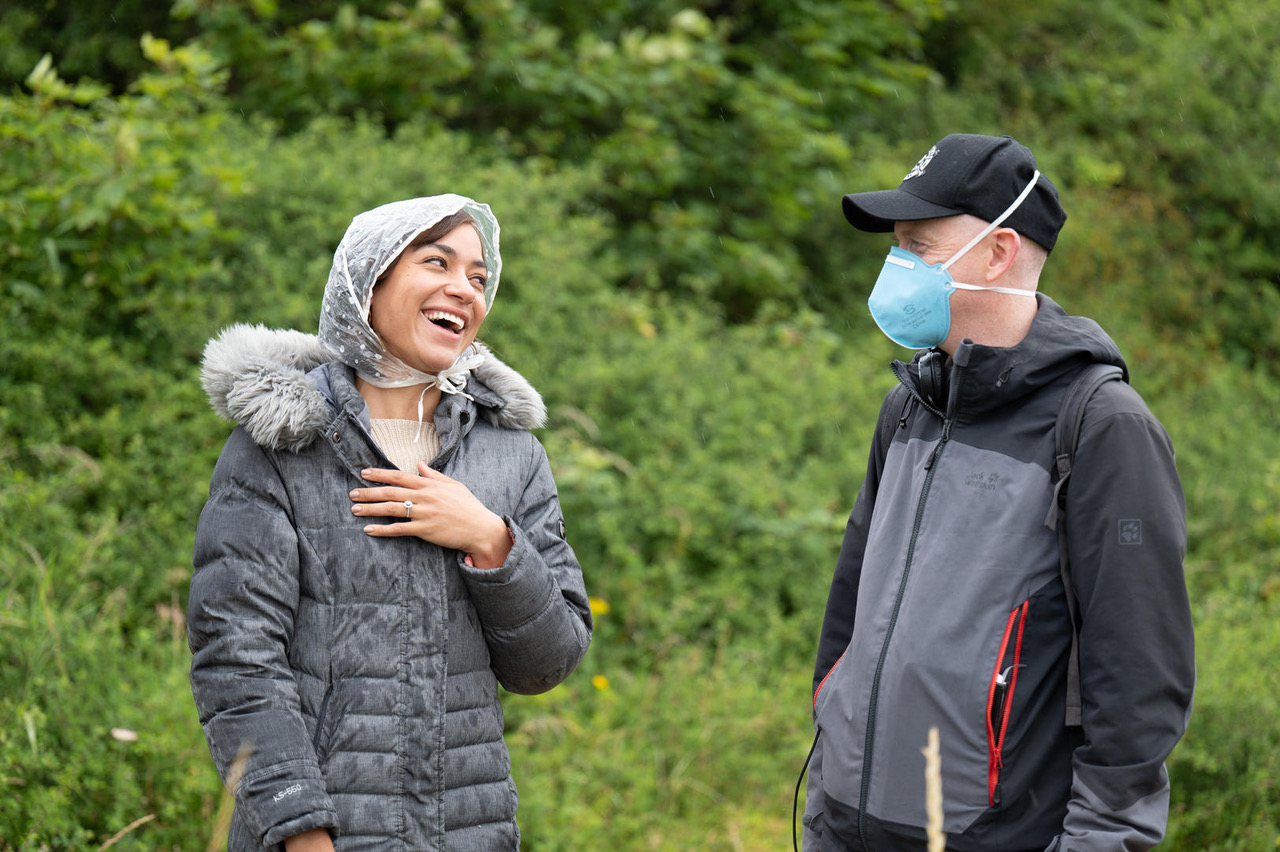 Cush Jumbo with director Daniel O'Hara
The show follows three people living comfortable lives who each conceal dark secrets that even the closest to them would never suspect; Megan (Jumbo), a working mother of three; Ray (Armitage), the once promising documentary photographer, now stuck in a dead-end job pandering to celebrity-obsessed rich kids, and Broome (Nesbitt), a detective who's unable to let go of a missing person's cold case. As the past comes back to haunt them, they must act in order to evade the secrets that threaten to ruin their lives and the lives of those around them.
"Jimmy's brilliant," O'Hara told IFTN, when asked about working with his fellow Irishman. "I first worked with Jimmy a few years ago on a couple of episodes of Stan Lee's Lucky Man, which was a big show on Sky that Jimmy was the lead in."
"We had a great time working on that actually, and I know he was excited about Harlan's story and about a Netflix show," added O'Hara. "It's a different type of cop character to what he's played before. He's such a pro. He's always there ready. Absolutely, just top performer."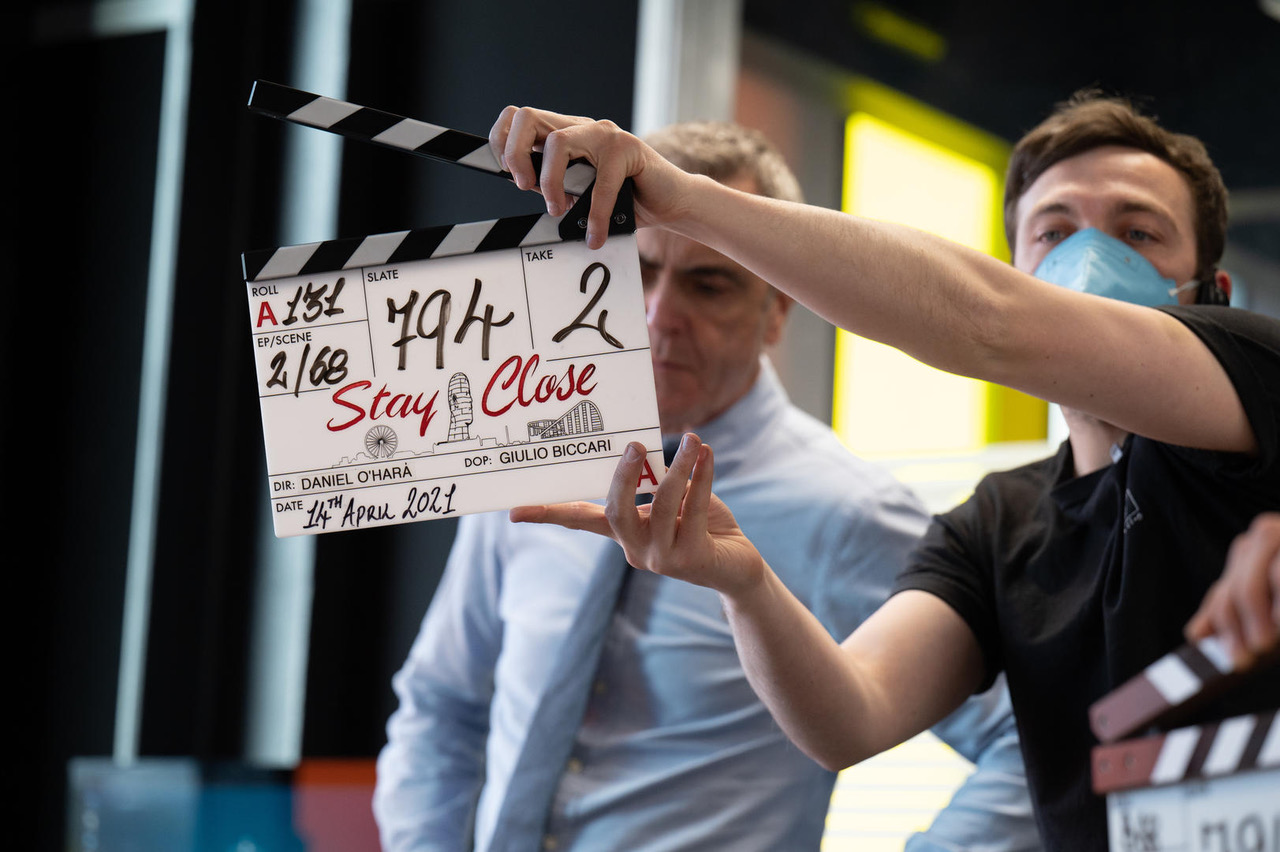 James Nesbitt Behind-The-Scenes on Stay Close
O'Hara has directed television projects for a wide range of international broadcasters and content providers, including Netflix, BBC, Sky, RTÉ, and TG4, on shows including Harlan Coben's The Stranger, Brassic, Doctor Who and Being Human. He first came to prominence with his critically acclaimed short films, Yu Ming Is Ainm Dom (2003) and Fluent Dysphasia (2004), which have won a combined total of 25 awards at international film festivals.
Following the initial successes of his two short films, O'Hara considered making the move towards feature film before getting a break to direct an Irish TV drama series. "I suppose touring film festivals with the short films very much exposes you to the feature world. That probably would have been my initial goal, but back then I didn't necessarily realise how much work there was in TV drama," said O'Hara.
"At the time, the opportunity that came to me was when Alan Moloney asked me to direct a block of The Clinic, and that set me off on the episodic TV stuff, and then we did Paddywhackery for TG4," O'Hara explained. "Then I got a break directing George Gently for BBC, which was shooting in Dublin at the time."
"That was two feature-length stories. I liked that where it was TV, so you're getting an audience of, whatever it was, 8 or 10 million people on a Sunday night on BBC One, but it was a standalone 90-minute film with returning characters"
O'Hara went on to do several TV movies for Company Pictures who then offered him a job on their new teenage drama series; "They asked me to do a couple of episodes of Skins, and then I was away into the TV world," O'Hara recounted. The Irish director went on to direct the top-rated episodes across Skins entire seven seasons, entitled 'Everyone,' which holds a 9.3 rating on IMDB.
"I think over those years, worldwide TV has elevated completely," explained O'Hara. "Now there's much less discrepancy between the worlds of TV and film. In fact, there's probably more people moving from film into TV than there is from TV into film. The streamers have blurred those lines. Netflix, it's not really TV, but it's also not cinema. It's some great hybrid of both, cinematic TV."
O'Hara got his first opportunity to work with the streaming giant in 2018, when he was hired by Red Production Company to work on Safe, an earlier Harlan Coben series. This is where he met writer/producer Danny Brocklehurst, who he has since worked with on several projects including Brassic for Sky. "I came in and did the last block of that, and Danny Brocklehurst was the lead writer on that," O'Hara explained.
"Him and Harlan work really well together because although they come from very different worlds, they have a real common sensibility in that they like writing in dark situations," O'Hara continued. "Danny will always find a bit of humour. Harlan does that in the books as well. They've really connected on that and I think that's a common thread throughout."
"I did Safe and then Danny was developing Brassic with Joe Gilgun and they brought me in to direct the beginning of that," added O'Hara. "Then straight after the first season of Brassic, Harlan and Danny were working again to do The Stranger, and I went back on that and then just started working well together and keep it going."
As well as working with Brocklehurst, O'Hara has enjoyed the same sort of working relationship with Toby Whithouse, another writer who Daniel has worked with on several projects including Being Human and Doctor Who. "It's good. I mean, sometimes you find writers where its just works," O'Hara explained.
"I think they've been happy with the way it's being brought to the screen by me. I'm obviously delighted," he continued. "It's great material, great scripts, which they both have in common. They like writing humour in dark situations."
So, from the perspective of an aspiring director, how important is it to cultivate relationships like that? "It is important," said O'Hara. "From a very practical point of view, when a writer is developing a script with a producer or with a broadcaster, they are in a position of authority to make recommendations.
"If they say they want somebody to direct because they feel that their work has been represented well by them, then they are offering a solution to something that is always a challenge when putting together creative teams," O'Hara explained. "Although you want everyone to bring their own ideas to it, you need people to be broadly on the same page and see things in the same way. That's been the case on these Harlan Coben shows as well."
Stay Close was adapted by Danny Brocklehurst (Brassic, Come Home), Mick Ford, Victoria Asare-Archer, and Charlotte Coben, and consist of 8x45min episode format. The series also saw Daniel O'Hara feature as executive producer for the first time on the series alongside creator Harlan Coben, Nicola Shindler (It's A Sin, Finding Alice, Happy Valley), Richard Fee, and Danny Brocklehurst.
"Harlan, Danny, Nicola, and Richard, who were the main executive producers, all of us are very much broadly on the same page," O'Hara continued. "If somebody within that has a stronger idea about something, it's fine because it's always within the overall vision."
"I think in terms of directors cultivating relationships with writers, I think that's really what it's all about," he explained. "It's about a common vision I suppose and a trust then that whatever you bring. Once you have that common overall vision, you can then bring your own ideas into it. It's going to be in the same ballpark."
Although Stay Close marked the first time O'Hara had take on the role of Executive Producer across one of the Harlan Coben projects, the director had taken the step up to associate producer on the stranger, which gave him a taste of the additional responsibility involved. "Over the course of the Harlan Coben shows that I've worked on, I've probably had a little more involvement each time and this time on Stay Close I was one of the executive producers," O'Hara explained. "That brought me to the top table, I suppose, in terms of decision making and being trusted to be part of that team that had been so successful over the four previous shows."
"I mean, as a lead director, you're probably doing that anyway, you're bringing those ideas in. I think it was really an acknowledgement of the work that I've been doing and the contribution I've been making to those," added O'Hara. "The other four exec producers on this have come through four shows together. They've got a really successful team, so to be included in that team and given the acknowledgement for it was great."
"It's been interesting working with Netflix and looking at the trailer and the publicity images and the thumbnail images that you get on your Netflix platform and the way the different images will appear based on the algorithm and all that kind of thing, different people will see different images of the show," O'Hara continued. "If you like police shows, if you tend to watch police shows, your Stay Close image might be Jimmy Nesbitt at a crime scene, but if you tend to watch family dramas, your image of Stay Close might be Cush Jumbo at home with the family."
"It's fascinating really," O'Hara added. "I guess Netflix has such a broad reach. It caters to everybody and obviously some shows will be specifically suited better to a certain demographic. But some shows try and cover a wider one. I think these shows cover quite a wide demographic - It's like teenagers and their grandparents watching the same show."
Stay Close is available to stream on Netflix.