'Brain Freeze' the science themed kid's comedy series is back for its third series on CBBC this week, airing daily at 3.35pm. IFTN talked to puppeteer Liam Geraghty about his work on the show.
"Puppeteering on Brain Freeze is quite possibly the most fun I've ever had. It's just completely bonkers every shoot as the gang [Doctor Knowles, Professor McCork, Colin and Ms Hucklebuck] try to answer the big science questions of the day! I always wanted to be a puppeteer since I was a kid - I'm obessed with Jim Henson and the Muppets - so this was a dream job for me," Liam said.
'Brain Freeze' uses a blend of puppets and animation to create a world where science facts meet big laughs. The series, which is made by Dublin based Kite Entertainment, has been part-funded by the Science Foundation Ireland and uses Irish government tax breaks.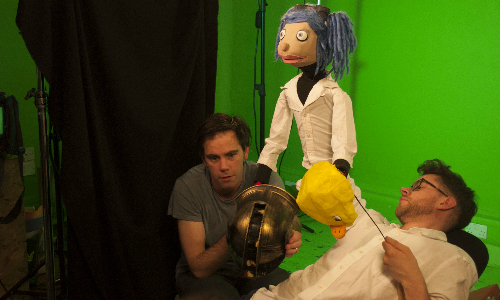 Behind the scenes photo of Ian Benjamin Kenny (Left) and puppeteer Liam Geraghty (Right) working on the show.
Each episode sees Dr. Sorcha Knowles and Prof. Mike McCork, answer the day's big question and explain the science behind their big answer. It¹s all done under the eye of Colin, the show's guinea pig floor manager.
Astronaut Tim Peaks has even shared on social media that he was a fan of the show. He live tweeted from space about the below 'Brain Freeze' episode entitled 'What is a Black hole?' saying it was a "a great episode all about space".
The cutting-edge visuals, mixing 3D animation, puppetry and 2D sketches, for 'Brain Freeze' are directed by Ian Benjamin Kenny with Feidhlimidh Woods on board as compositor and pipeline producer. The studio is built in 3D and the puppets on the show are shot on green screen.
'Brain Freeze' airs on both CBBC at 3.35pm daily and RTÉjr. It is distributed internationally by Aardman Rights.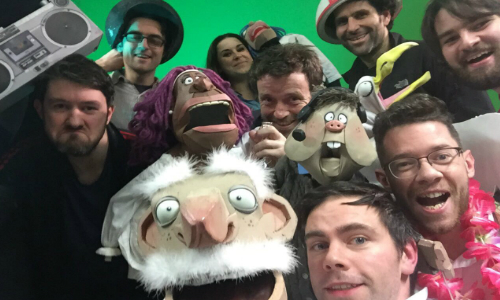 Picture of the 'Brain Freeze' cast and crew from series 3.
Brain Freeze is produced for Kite Entertainment by Colm Tobin who also wrote the series with Aidan O' Donovan. The director is Ian Benjamin Kenny with Feidhlimidh Woods taking care of pipeline and compositing. Eoghan Dalton is the Animation Director. The cast consists of Maura Foley, Aidan O' Donovan, Susan Wokoma and John Colleary. Liam Geraghty puppeteers all of the characters on the show. Steve Lynch and Giles Packham composed all the music for the series. Stephen Kelly handles audio post and OMAS Media picture post-production.