It's been a year of excitement and expansion for Irish animation, with home-grown content receiving international applause and the companies behind them stepping up to their global counterparts.
Brown Bag Films is a prime example of the vibrant animation industry in Ireland today, with the Dublin-based studio seeing a 26% staff increase this year.
The expansion has been made with a view to expanding staff members by 2018 by almost 10% in addition, with an ongoing recruitment strategy further enhancing our pool of local and international talent in the field of animation.
The UK studio also continued to impress this year, having been featured in the Creative England 50 report last January, which highlights the best creatives in the UK, encompassing a wide range of industries from film and animation to games, software and marketing.
Sarah McQuire, Director of Operations, Brown Bag Films UK:
"The last 12 months have been momentous for Brown Bag Films UK. We are extremely proud of everything we have achieved so far and look forward to an exciting future, producing world class animation."
We look back on some more highlight moments for Brown Bag Films in 2016, which sees a busy production slate and distribution schedule, alongside an array of Irish and International Awards, including a Best Animation nomination for 'Peter Rabbit' at the IFTA Gala TV Awards.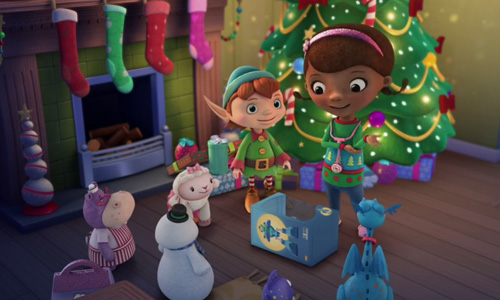 Production & Distribution Highlights
'Doc McStuffins' is a favourite and familiar show from the Brown Bag Films team, and premiered its fourth season in July to top ratings on Disney Junior. It became the channel's number one series telecast of 2016 (among Kids 2-8) with over 1.4 million viewers.
Disney Junior Worldwide announced a fifth season in November, with Executive Vice President and General Manager of Disney Junior Worldwide Nancy Kanter describing the hit show as, "…an unmistakable example of our commitment to powerful storytelling that enriches and enlightens kids."
In other distribution news, Amazon is also now making 'The Stinky & Dirty Show' available online on Prime and Video.
'Vampirina' based on the children's book series 'Vamparina Ballerina'(Anne Marie Pace) is set to premiere in 2017, with its team headed by the Oscar-nominated Director Nicky Phelan (Granny O'Grimm's Sleeping Beauty).
Awards & Nominations Highlights
The Brown Bag Film studio received five nominations at the 43rd Annual Daytime Emmy Awards in addition to a win for 'Peter Rabbit' Storyboard Artist Benjamin Sanders, who was honoured in the category of Outstanding Individual Achievement in Animation.
'Peter Rabbit' also won in the Best Special Class Animated Program category with Director David McCamley accepting the award on the night.
David McCamley, Director, 'Peter Rabbit':
"This is such a huge honour and a testament to our incredible crew who put so much love and talent into making Peter Rabbit happen."
Nominations also saw 'Peter Rabbit' take its place in the Best Directing for Animated Program category, 'Henry Hugglemonster' in Outstanding Pre-School Children's Animated Program and 'Doc McStuffins' in Best Writing for Pre-School Animated Program.
The 2016 Cynopsis Kids !magination Awards also honoured 'Peter Rabbit' as the Best TV Series Based on Books.
Additional nominations for 'Peter Rabbit' this year include a nomination in the International category at the Children's BAFTA Awards, and Animation category at the Banff World Media Festival's annual Rockie Awards. 'Octonauts' also received a nomination under the Pre-school Program category. Closer to home 'Peter Rabbit' also received a nomination for Best Animation from the Irish Film & Television Academy.
David McCamley, Director, 'Peter Rabbit':
"It's truly satisfying to receive such recognition from IFTA for Peter Rabbit. It is a credit to our incredibly talented crew here at Brown Bag Films who have brought so much love and passion in bringing Beatrix Potter's world alive for a new generation."
Another stand-out project for the Brown Bag Films team this year is 'Doc McStuffins', which garnered nominations from Best Animated Series from the Kidscreen Awards, alongside its win for Best Children's Program at the Sentinal Awards, Best Animation at the NAMIC Vision Awards and Outstanding Children's Program at the NAACP Image Awards 2016.
'Bing' was also honoured in the Kids: Pre-school category at the International Emmys Kids Awards, while 'The Stinky & Dirty Show' is currently in the line-up of nominated projects at the prestigious upcoming Annie Awards in 2017.
At home the team were awarded the 2016 Shotgun Pipeline Award for the Task Trigger Workflow Setup utility and Shotgun Trigger Engine, developed by Senior Software Developer John Griffin.
The Irish Design Awards also recognised the standards of CG Animation in 'Henry Hugglemonster' at the IDI Irish Design Awards.
Short Film 'Anya' Directed by Damien O'Connor was also selected for the Global Irish Design Challenge Exhibition in Dublin Castle.
Visit Brown Bag Films Online
IFTN Client Profile