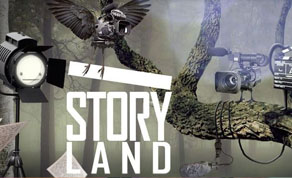 Storyland
Fís Éireann/Screen Ireland and RTÉ have announced increased investment in the award-winning short drama series Storyland.
Designed to create opportunities for new talent to pitch, develop, and produce drama for our screens, Storyland has acted as an invaluable springboard for Irish writing, directing, producing, and acting talent throughout the island of Ireland to develop their careers.

RTÉ and Fís Éireann/Screen Ireland have come together to increase the investment in Storyland. In 2022, for the first time, Storyland short dramas were broadcast on RTÉ2, as well as RTÉ Player, providing a wider platform for new drama talent and increased funding for these original Irish drama commissions.

Applications are now being sought by the two state bodies to commission eight scripts, working closely with script writers and producers on their development. Writers from the worlds of television, film, theatre, advertising, literature, documentary, and journalism are being sought, whether or not they have written for television or film before.

Of the eight dramas developed, three single dramas of 25 minutes duration will be commissioned for production.

Storyland is committed to ensuring diversity and an equal gender balance across all key creative positions and to being inclusive when considering the make-up of each team.

Speaking about the initiative, RTÉ's Acting Head of Drama,  David Crean said: "Storyland has been a great way to discover and nurture new and unique voices with untold stories. As part of our continuing commitment to identify and promote a diverse range of voices and talent, it was exciting to see Storyland being embraced on television and reaching a wider audience. It's an essential ramp for drama talent to showcase their work locally and globally and we're delighted to be working with Screen Ireland on our commitment to raise the profile of Irish drama."

Screen Ireland's Television Project Manager, Andrew Byrne added: "We are delighted to be working with RTÉ on the continued investment in new talent via the Storyland scheme, which gives a first opportunity to emerging voices within a short television format. I look forward to seeing this year's submissions and the variety of new stories."
Click here for more information about Storyland.