Frankie Fenton's IFTA-nominated documentary on the life of Irish filmmaker Simon Fitzmaurice, who has lived with Motor Neuron Disease since 2008 opens today to US audiences, distributed by FilmRise.
The project is produced by Kathryn Kennedy of Kennedy Films and Lesley McKimm, with Colin Farrell (The Killing of a Sacred Deer) narrating.
'It's Not Yet Dark' borrows its title from Simon's autobiography, which was published in 2015, around halfway through the documentary project. While Fenton's vision was initially to capture Simon as he directed his debut feature film, 'My Name is Emily' using only eye gaze technology, it became clear to the team the book was at the heart of the story they were telling.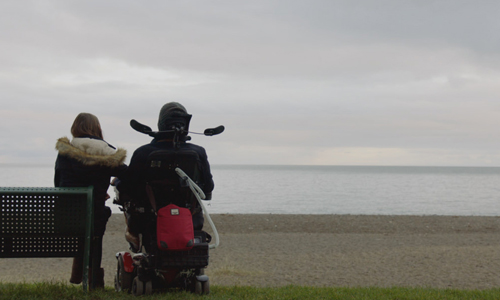 Other key crew members are cinematographer Kate McCullough (The Farthest), editor Dermot Diskin (The Secret Scripture) and composer Stephen Rennicks (Room).
'It's Not Yet Dark' has screened at Sundance, The Edinburgh Film Festival and The Galway Film Fleadh, where it won the award for Best Irish Feature Documentary and Best Cinematography in an Irish Feature.
Read our interview with director Frankie Fenton here