To be scheduled in the prestigious Galway Film Fleadh is but one of many achievements to date for Muldowney's film, which entered production with an all-star cast, premiered at Tribeca and has impressed distributors as much as festival audiences.
'Pilgrimage' is set to screen at the Galway Film Fleadh on July 13th, where Irish audiences will see Tom Holland, Richard Armitage, Jon Bernthal and more bringing these unique 13th century characters to life for the first time.
The title is produced by Conor Barry and John Keville of Dublin-based production outfit Savage Productions and Benoit Roland of Wrong Men. Element Pictures Distribution are set to release the title in Ireland from July 14th.
Muldowney walks us through the route from script to screen, from the power of Jamie Hannigan's script to shooting in Belgian forests and the rugged coast and mountains of Ireland.
IFTN: Firstly talk us through how you first came on board 'Pilgrimage' and what attracted you to the project.
"The writer, Jamie Hannigan pitched me the idea of a band of monks travelling across a war torn Ireland in the 13th century and I was hooked. I loved the historical aspect of the story, placing it during the Norman invasion, a time of great upheaval in Ireland. I have a soft spot for the genre having made a medieval short before called 'The Honourable Scaffolder' (2003). I just love the research and creation of a world from the past. "One of my creative obsessions has always been religion and faith so I felt that this was rich with thematic possibilities. The idea of using Irish monks who live on what was then thought of as the edge of the world, and are slightly out of touch with Rome, still amongst the pagan superstitions of ancient Ireland, had great possibilities. When Jamie introduced a fanatical envoy from Rome who orders the monks to take their holiest relic with him to Rome for use in the upcoming crusade, the story took on more modern themes of how religion is used in today's political landscape. "It had a culturally interesting backdrop, but it was also an action film with big set pieces full of fighting and stunts, so I felt it would also be entertaining on a cinematic level. "I also like the challenges of dealing with multiple languages, period costumes, sets, horses, stunts, boat work, special effects, visual effects and fight choreography."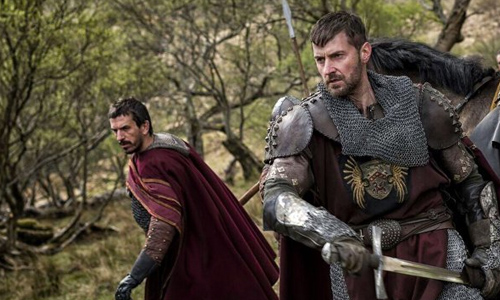 IFTN: What is immediately impressive about the project is the all-star cast. What was the process in getting names like Tom Holland and Richard Armitage involved?
"I'd have to say that the quality of the script is what attracted everyone to the project. Jamie's research and attention to detail was superb, apart from its rich characters and inventive story. We had an excellent casting director in Dan Hubbard, who prepared casting suggestions for each role. We had eight main roles to cast from English speaking actors so this quite a large task. "I watched Tom Holland in 'The Impossible' and 'How I Live Now' and thought he was excellent so he was cast first. This is before he became the new Spider-man. Jon Bernthal, Richard Armitage and Stanley Weber are all exceptional actors and we were lucky that they all responded enthusiastically to the script. "We were also very lucky to cast some of Ireland's best actors in the roles of the monks and Irish warriors - John Lynch, Hugh O'Conor, Rúaidhrí Conroy, Lochlann O'Mearáin, Diarmuid de Faoite, Donnacha Crowley and Tristan McConnell. "There are four languages spoken in the film – English, Gaelic, French and Latin, so it helped that a lot of the Irish actors had good Gaelic. Tom Holland had to learn to speak his Gaelic lines and to also speak with an Irish accent. Richard Armitage had to speak some French as he was playing a Norman Knight. "We cast the rest of the Normans from Belgium, which helped with authenticity. Also casting stuntmen in certain roles helped with the stunts and fighting. Tristan as mentioned earlier and Tony Condren as the warrior Wolfhead added to the realism and helped save time during shooting. "It was a complex process casting the film but I think it turned out really well with everyone suiting their roles, and fitting into the overall look really well."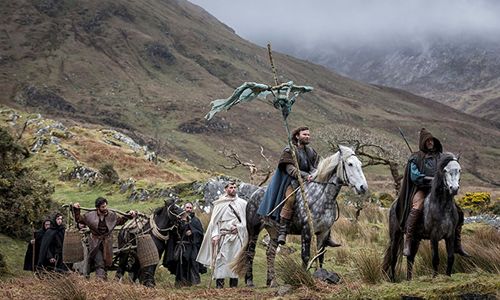 IFTN: What was your experience of filming in both Ireland and Belgium?
"We had a great Locations Manager, Gordon Wycherley who spent a long time scouting and showing us around various possibilities for the locations. We decided on a unit base between Galway and Mayo to give us access to locations in both counties. I can't say enough good things about the west of Ireland but as anyone who has spent time there knows, it is amazing. It has an awe inspiring, ancient feel to the landscape. "It was easy to decide the split between shooting which parts in each country. Ireland has the rugged coast and mountains and Belgium is well known for its forests. So as the story was a journey through Ireland from one coast to another, we bookended with the Irish locations, and shot the middle forest section in Belgium. "My lasting memory of Ireland is the changeable weather. The first day of shooting was one of the worst days we experienced. Gale-force winds and constant driving rain. Then we experienced a heat wave. I also remember standing on the beach in the sun and seeing a dark cloud on the horizon. The ADs would call out "storm coming", and it would arrive five minutes later, and then we'd shelter for fifteen minutes before the sun came out again and resume shooting. "Belgium was slightly different as our first week was split days and night shoots. The second week was our big ambush sequence, which we shot in three days with a huge cast of extras. The logistics of managing that amount of people was huge. The crew doubled to cope with the extra demands of costume, make up, catering etc. My first assistant director, Charlie Endean, went on to first AD the Game of Thrones episode 'Battle of the Bastards and told me they had three weeks to shoot that battle sequence, so I feel proud of what we achieved in three days. "There was a third country involved–Greece. We shot a prologue which was set in Cappadocia 55AD and needed somewhere hot and desert like. We ended up in a live volcano on the Island Nisyros, which was another spectacular location."
IFTN: Why do you think the film has been received so well internationally, both at festivals and by distributors?
"I think it is a combination of a recognisable cast and a popular genre. The setting is quite unique also. The Irish monastic settlements, like the one on Skellig Michael, haven't really been portrayed on screen. "It's really just the start of its run now. We premiered at the Tribeca film festival in April and then we're screening at the Edinburgh Film Festival followed by the Galway Film Fleadh, before it is released. "It has sold to every territory except North Korea so it will be released worldwide between July and August. The UK is first on the 3rd of July to coincide with 'Spider-man: Homecoming' on the 7th, and Ireland follows with a theatrical release on the 14th of July. It will be released theatrically in the US on the 11th of August. Different dates and on various platforms are planned throughout the world for the months of July and August."
IFTN: What is your next move as a director?
"I am writing, and in different stages of development on a few projects. I have a political thriller set in the 80's, dark 'coming of age' drama and a Haunted house/ Ghost story."
Galway Film Fleadh Booking Information