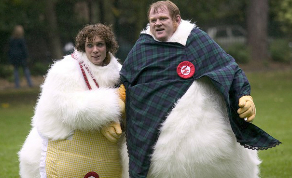 Pictured Cillian Murphy & Brendan Gleeson in 'Breakfast on Pluto' Tom Conroy, Production Designer is hosting 'What an Art Director Does' class
Screen Training Ireland are delighted to continue their support of the Fastnet Film Festival 2017. This year an exciting range of workshops and masterclasses aimed at young people will take place in Schull, West Cork from Wednesday 24th to Sunday 28th of May, 2017.
Top level industry practitioners will mingle with young emerging talent providing valuable advice and support to the filmmakers.
Industry focused workshops include:
'Stories in your Pocket: Telling Tales with Mobile Technology' with Neil Leyden, RTE
'What an Art Director Does' with Tom Conroy, Production Designer (The Professor and the Madman, Legend, East Is East, Breakfast on Pluto)
Self-Taping workshop with Maureen Hughes, Casting Director, Bow Street
'Ideas and the Creative Process for Writing' with Donal Beecher and Actor Brendan Conroy
Screen Adaptation with Michael Kinirons
'The Dance of Documentary Ethics' with Pratap Rughani, Director Lotus Films
'Lighting on a Budget' with Barry Donnellon
'Surviving in the Jungle: What Film School Doesn't Teach You' with Chris O'Dell, DOP
'Practice Makes Perfect' with Gerard Stembridge and UCC
Costume Design with Joan Bergin, Costume Designer (My Left Foot, The Field, In the Name of the Father, The Secret Scripture)
Masterclass in Media Composition with Ray Harman
Q&A with Maurice Seezer
Actor's Clinic with Pat Kiernan
For a further information on workshops and masterclasses taking place at Fastnet Film Festival 2017 please click here .
Please note places for the above are limited. To book your ticket you can visit the Fastnet Film Festival website by clicking here.