Northern Ireland Screen's Irish Language Broadcast Fund (ILBF) is delighted to announce its latest round of funding decisions for 2017. Funding was awarded across a wide genre of TV, animation and online content with a total of 16 projects receiving funding.
The fife and drum band has been a long-held tradition in Donegal and has a unique place in each parish. Imagine Media's An Bhuíon Cheoil which will air on TG4, will look at the people and passion behind this tradition and unique culture.
As the 50-year anniversary of the Civil Rights movement in Northern Ireland approaches, Imagine Media's Saoil Ár Linne looks at the legacy of this movement through the eyes of young people today and the impact it has had on their own lives. Saoil Ár Linne will be broadcast on BBC NI.
Marking the 500th anniversary of the Reformation, Waddell Media's Liútar 500, will broadcast on BBC NI, and explore the influence of the Reformation on the Gaelic-speaking communities of Scotland and Ireland.
Macha Media has been awarded funding to tell the previously untold tale of the famous artist Rockwell Kent and his connection with the Donegal Gaeltacht. Ar Lorg Annie is a tale of love, art and the Cold War and will air on the BBC.
Paper Owl Films will take a fly-on-the-wall look at the day-to-day running of the Shandon Hotel, getting a true feel of what life is like for both staff and guests. An Shandon will be broadcast on TG4.
RedRay Films' new animation series for RTÉ and CBBC, Ríona's Warriors, will tell the tale of a group of young children who turn into a mighty band of warriors who love nothing better than going on adventures together.
This year also sees two ILBF funded series mark an important milestone. Popular country music show Opry an Iúir, produced by Big Mountain Productions for TG4, and Below the Radar's lively magazine show for BBC NI I Lár an Aonaigh both return for their sixth series. Below the Radar's online platform Meon Eile will also be returning.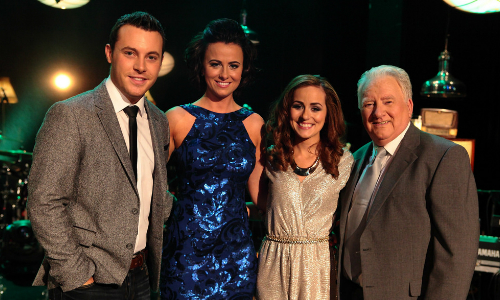 Pictured appearing on 'Opry an Iúir' (R-L) Nathan Carter, Lisa McHugh, Niamh McGlinchey & Ronnie Kennedy
Spread throughout Ulster is a rich tapestry of caves, tunnels and lairs underneath the ground. Airing on BBC NI, DoubleBand Films' Ulaidh Faoi Thalamh will cast light on the secret places and hidden treasures beneath our very feet.
Irish and Scottish traditional music have long been closely interlinked and both have seen great changes in recent years as musicians try to innovate and make the music their own. Gaineamh Séidte, a co-production between Dearcán Media, MAC TV and Magamedia Teo, will chart the music journey of both traditions and will air on RTÉ and BBC ALBA.
Dearcán Media will also co-produce with Lugh Productions Teo a documentary on Patsy Dan, the King of Tory. Rí Thoraigh¸ which will be broadcast on TG4 and BBC NI. It will look at Patsy Dan's life and legacy and how life on the island will change when he is no longer king.
In the last twenty years, Tyrone GAA football has seen its most successful period of football and many believe this began with their minor team of 1997/98. While this particular team has been synonymous with success it has also been through an extraordinary series of personal tragedies. Airing on TG4, EMM Productions' Spiorad Thír Eoghain will explore the tragedies which united a group of young men and how they triumphed in the face of adversity.
The deadline for the next funding round is Friday 1st September 2017. For further details and guidelines please visit the Northern Ireland Screen ILBF funding webpage.