IFTA-winning director Ruán Magan is gearing up for another slate of shooting in Dundalk this month as production on his documentary 'Six Bullets To Fire' continues.
The fly-on-the-wall film, which is tracing the progress of six race horses over a three-year period, has been filming since last year, and has so far covered ground in both Ireland and England.
Renowned trainers Tommy and Fozzy Stack are featured in the documentary, as they train six foals at their stables in Tipperary, in the hope of at least one of the horses progressing to be a group one winner. Top jockey Wayne Lordan is riding.
Magan told IFTN the training process was a "very specific task and challenge, a tough one to pull off", as he likened it to "trying to breed an athlete like Usain Bolt".
The multi award-winning director added that he was finding the shoot "really fascinating".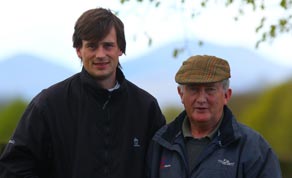 Fozzy & Tommy Stack are training all six race horses
Former actor and champion horse owner David Keoghan purchased the six horses, which are all from different thoroughbred lineages, and is serving as producer on the documentary. Keoghan, who has had roles in 'The Tudors' and 'The Clinic', previously owned Royal Ascot-winning horse Lolly for Dolly.
Both Keoghan and Magan are self-funding the project, a decision they came to before principal photography even started in order to have the utter most control over the project.
Magan is producing for his production company Create One and Keoghan for Red Robin. Other crew working on the project are directors of photography Ronan Fox (Haughey) and Colm Whelan (Death or Canada).
As well as Irish stations, Magan and Keoghan told IFTN the documentary is aimed at international territories, and they hope it will get picked up in areas such as Japan, Canada, New Zealand and Australia. "It's more about territories as opposed to stations," said Magan.
Filming on 'Six Bullets to Fire' is scheduled to wrap in 2014, when Emmy-winning editor Bob Caldwell of House Post Production will cut the final drafts. Caldwell, who was chosen "very specifically" according to Magan, is currently looking after all post production as filming on the documentary proceeds.
The final edit will be a 1x90 minute feature length documentary.