'Sensation' tells the story of Donal, who is left as sole heir to some land, when his farmer father dies. Unfortunately, Donal has not inherited much in terms of social skills and finds it hard to talk to women. Turning to the internet, Donal hooks up with Kiwi call-girl Kim, who harbours a business plan that would see her off her back and behind a desk, greeting punters at her own brothel. Together, they team up to run a rural brothel. But 'Sensation' is no 'Pretty Woman', as director Hall avoids cliché at every turn. Critics have heaped praise on the feature calling it a "hot droll delight" (Variety) and "a great Irish film, a well-acted, well-written and for all it's darkness, at times surprisingly sweet comedy drama" (Culch.ie). IFTN caught up with director Tom Hall and lead actor Domhnall Gleeson to find out more about the feature ahead of its Irish release on November 4th.
Penned by director Tom Hall, the 'Sensation' story was initially inspired by a court report detailing a farmer's home-run brothel in a small town in rural Ireland. "He ran this brothel in a house that he had lived in all his life, in a tiny town. I thought that was very funny – just mad and also brilliantly surreal. But then I had a second thought which was: how does someone get there? If the court report is the end of the story then what is the beginning of it."  But this case served only as inspiration, with Hall doing no further research into the details, saying he "did not want to be contaminated by the real life event. When I finished the script, I looked up the original story just out of interest, and it had no overlap."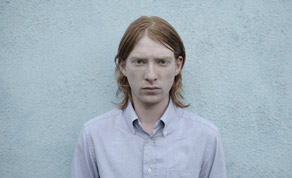 Domhnall Gleeson in
Sensation
Domhnall Gleeson took on a challenging first lead role in 'Sensation', portraying the role of sheep-farmer's son Donal. With Donal's father's death comes the freedom to indulge in his naive sexual fantasies, shaped by the virtual world from where he has gained his only experience of sex. Donal calls on the service of professional prostitute 'Kim/Courtney' (Luanne Gordon) to help rid him of his virginity, but the pair move on from the typical prostitute/client relationship and both their lives begin to change. To describe Donal as a man-boy is not incorrect, but does no justice to the complexities and transformation of his character throughout the film. For Domhnall Gleeson, the prospect of playing his first major role as Donal was "terrifying. But I knew I was in safe hands. I was working with Tom, who I knew, which is a nice way to go into a movie. I also felt like I could offer something to the role. The role has different aspects and I thought this can be funny, this can be a little bit upsetting, and it can be really, really interesting and I think I can find the guy who can do all those things. And the idea of carrying a film like that was intoxicating!"
For a young actor in a film loaded with sex scenes, he must have found the experience quite unnerving. "As I said earlier on, it was practice, practice, practice…by myself," jokes Domhnall. As the version of the script initially shown to cast in the auditioning process was more explicit than what has reached our cinema screens today, Tom believes everyone auditioning "knew what they were getting into." The very physicality of the scenes meant they needed to be rehearsed and locked down before filming. "We had a bizarre day where we met in the actress' hotel room and we blocked out exactly what everyone was doing. And you tell them, this is where the camera will be, it will be on this lens…so this is what you will be seeing. And I didn't do this for any other scenes in the film; I'm not generally that rigid," says Hall.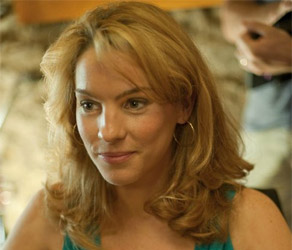 Kelly Campbell in
Sensation
Having closed sets for the racier scenes and having the right tone set among the crew meant both Luanne and Domhnall were comfortable, although Hall admits that the scene between Kelly Campbell (Hall's real life wife) and Gleeson were "peculiar. I was kind of saying that maybe they should just shake hands – wouldn't that be just as effective! But you have to remember the overall purpose of the project, and both the crew and the actors are invested in it." The practicality of their Dutch cameraman, Benito Strangio, also helped: "While we are either terrified or giggling, he is saying can you cover her in baby oil because that will catch my lights really well," says Hall.
Starring alongside Gleeson is Kiwi actress Luanne Gordon, who previous credits include roles in TV series 'Interrogation', 'Casualty', 'The Strip' and 'Xena: Warrior Princess'. Gleeson praises the performance of his on-screen partner Luanne, saying "There's a ballsiness about her. And that really fits into the set of characters. You're dealing with a young man who has no experience with sex, and then you have this professional prostitute, so the role needs that strong quality."  Hall says his leading lady was always a front-runner for the part. "A friend of mine – an actor, read Domhnall's part off camera in London when I first met Luanne. Other actors are very good judges of performance. And he thought she is the real thing. It was immaculate."
Hall feels Luanne could straddle the boundary between sensitive and vulnerable for the character of veteran prostitute 'Courtney'.  "I think she had the right kind of Kiwi quality of a frontier woman," adds Hall. Her wealth of on-screen experience was another deciding factor, with Hall saying "She is a very accomplished screen actress. And because Domhnall was under a lot of pressure to carry a film and he hasn't had as much experience, she sort of balanced this out."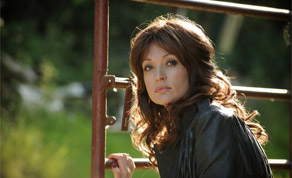 Luane Gordon in
Sensation
Gleeson has also tried his hand at the behind camera work of filmmaking, having written and directed shorts 'Noreen' and 'What Will Survive of Us'. While Gleeson says for the moment, his priority is acting, he thinks the two are not necessarily conflicting. "Right now my focus is on acting because I am loving it so much and I get to work with such extraordinary people. I wouldn't give that up for the world. I think a lot of actors say they want to direct, and there is no point saying it unless you do."
Gleeson used both his off and on camera skills for 'Sensation', having some input to the behind-the-scene process of crafting the film. "I would send drafts as the script was progressing to Domhnall and then again when editing, I would send rough cuts to him," says Hall. "You can't necessarily trust the notes you get from financiers or producers about finessing and emphasising things, so you want another view. Domhnall has written, directed and cut a film so he could respond not only about his own performance but about the whole film and how it is shaping up. That is unusual; I had never done that before with an actor."
Although the 'Sensation' role may have been Gleeson's first leading feature role, the Irish actor's career continues to take off. He is currently working on Joe Wright's 'Anna Karenina', alongside Keira Knightley, Jude Law and Matthew Macfayden.  For Tom Hall, there is talk of a second series of RTÉ's comedy-drama series 'Trivia' ("there is talk of it in Spring") and a new feature called 'Commonwealth', written by Hall and Christian O'Reilly, which he hopes to direct in 2012.
Written and Directed by Tom Hall, 'Sensation' is an Irish/Dutch co-production from Blinder Films and River Park Film. It was financed by the Irish Film Board, Rotterdam Film Fund, Screen Scene and Section 481. Producers on the project are Katie Holly and Kieron J. Walsh. DOP is Benito Strangio and Production design is by Tamara Conboy. Element Pictures Distribution are releasing the feature in Ireland.
'Sensation' is released on November 4th and can be seen at the following locations:
Dublin: The IFI, Cineworld, Screen, IMC Dun Laoghaire, Omniplex Santry, Vue Liffey Valley
Cork: Cork Mahon Point
Galway: The Eye Galway, Omniplex Galway
Limerick: Omniplex Limerick