Company:
HBV Studios
Position:
Recording Booth for Sale
Location:
Dublin 2
Contact:
Bill O'Connor
Address:
10 Merrion Square, Dublin 2
Phone:
086 051 87 59
Date Posted:
March 6th 2017
Email:
bill @ hbvstudios.com



«Back To Jobs
Recording Booth for Sale
Price: €7,000
A transportable acoustic sound recording booth, supplied by Studio Box Germany. The booth is just over two years old, in excellent condition. It is also fully soundproofed and offers superb recording quality. Ideal for voiceover recording and music practice.
Booth Description
Variable Interior Acoustics
High Acoustical Transmission Isolation
Custom Fitted Modules
Pleasant Room Climate
Interior Acoustics
Calculation of Interior Acoustics by using computer simulation
Three matched absorbers and reflectors in angular configuration
Tilted interior windows
Reverberation Time throughout the entire audio spectrum as a function of room volume.
Interior Design: Stretched fabric on walls and ceiling
Internal dimensions:
Length 240cm
Width 180 cm
Height 250 cm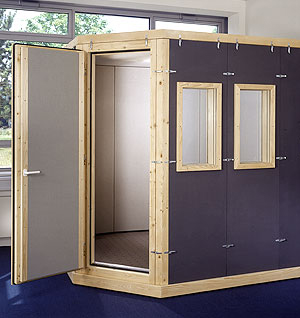 For further information, contact Bill via the email provided or on 0860518759
Apply Now / Email: bill @ hbvstudios.com

Deadline: March 20th 2017
www.hbvstudios.com