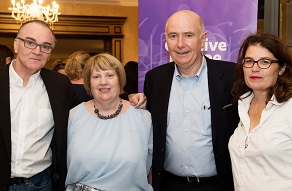 Eamonn Bowles, Magnolia Pictures, Eibhlín Ní Mhunghaile, MEDIA Office Galway, James Hickey and Lesley McKimm, Screen Ireland at the Creative Europe MEDIA Networking Dinner at the 30th Galway Film Fleadh
More than 180 Producers, Sales Agents, Distributors and Film Fund representatives attended the annual Creative Europe MEDIA Networking Dinner at the 30th Galway Film Fleadh in Hotel Meyrick last Thursday. The Creative Europe MEDIA Networking Dinner marks the start of the Galway Film Fair, the Film market that runs alongside the Festival
The key-note speaker for the occasion was Austrian Producer Danny Krausz, Dor Film. As President of the MEDIA supported Producers Training Programme EAVE, Krausz announced that EAVE will host a Producers Workshop in Galway in June 2020 to mark Galway's designation as European Capital of Culture. EAVE - European Audiovisual Entrepreneurs - is one of the leading training and development programmes for Producers in Europe.
In his key-note address Krausz also spoke about the about the challenges and opportunities facing European producers today in dealing with a changing Financing and Distribution infrastructure.
Over the following two days the Galway Film Fair scheduled over 750 meetings for Filmmakers who will have the opportunity to pitch projects to the World's leading Film Financiers including Visit Films, Magnolia Pictures, BBC Films, Film 4, Bankside Films, Hanway Films, Toronto Film Festival, the Kennedy/Marshall Company among others.