During one of the most difficult economic periods in recent memory, when business where shutting down, building stopped and towns became quieter, a sport began to grow.
Women's roller derby in Ireland was a fledgling idea before 2011, when the first ever Irish team began assembling to take on the inaugural world cup in Toronto. McGann meets the team, a mix of Ireland's only two clubs, just as they prepare to prove themselves on the international stage.
In the years which follow she not only captures the fate of the sport but the bonding force of derby for women who need, want and battle for the purpose it brings, alongside the demands of everyday life. The first voice on screen shouts to us, in a flurry of dressing room feet and skates, 'Just because someone has a load of tattoos doesn't mean they're tougher than you!' This command to leave perceptions at the door is one McGann carries faithfully throughout.
'Revolutions' releases to Irish cinemas on Friday, June 30th, distributed by Wildcard Distribution. Ross Whitaker (Between Land and Sea) of True Films produces the title which was edited by Andrew Hearne (Unbreakable: The Mark Pollock Story).
IFTN: How did you get onto roller derby as a topic and what made you stick with it for so long?
"I came across them on Facebook because I think their ads targeted me, and they were recruiting at the time. I fit into that demographic of girls in their twenties who may have an interest in sport and I thought to myself, 'I'm not going to join this [laughs] but I may make a film about it.'
"Then I heard they were starting the first Irish team for the first ever world cup in December. I realised then that this was very exciting; something was actually happening here. It's not just that you have people over there doing this cool thing, there's an international story to follow.
"I met them at the first Irish training session and I was just fascinated. I kept asking myself, 'Who are these people?' They were so passionate and arguing with each other, but with love, and it felt like the centre of the universe. It felt like this was the most important thing to the world to these people, which again is really interesting. On that first day I felt, 'These guys are almost fanatical about this sport that I don't really understand it at all just yet.'"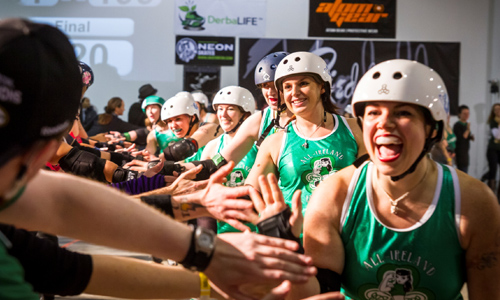 IFTN: It's hard to watch it without getting hyped up just looking at them on screen, isn't it?
"They bounce off the floor! The way they fall is just...I can't even explain it. Your first reaction is 'Argh! Is she okay?' and the next is, 'Hold on, where's she gone?' [laughs] because she's up and she's gone again. She's after absolutely cracking herself off on the ground but the first thing they do is learn to fall properly so they're right back up again. That's when I started to realise these girls are tough. They're not sitting there licking their wounds or hobbling back. It's not even registering with them that they've been thrown to the ground."
IFTN: What were your first steps to filming, getting the Irish Film Board involved, and ultimately making a feature length documentary?
"I don't bring a crew with me, so it was just me and a camera that day and that's how the whole thing was. I was looking for a producer so I met Ross Whitaker and I said to him, 'Ross, I need money to get to Toronto. I need to follow the story and we can build from there. We'll cross the next bridge when we come to it but the first thing is I need to go to.' He said we would go to the Irish Film Board for development funding. We made a teaser afterwards to apply for full funding, which we got. That enabled us to continue to follow the story from there.
"We wanted to start with a big tournament and end with a big tournament. We thought it was going to be the world cup in December, the European cup in July and we'd be out the door by Christmas. But of course it's a new sport so that got cancelled and still hasn't happened. It ended up being pushed back three years and we had a meeting where we asked ourselves about continuing on. I really like the idea of using the two world cups to hold the story, to give it a bit of structure and show that contrast between the then and now in terms of the team and the sport.
"We're talking three years in that interim between those two tournaments and we're following these women in their twenties and thirties, so that's what it was about. We shot the games and the ups and downs but it was really about the girls struggling to find a balance and figure out their lives. Like with Crow, she's making a fiver here and a fiver there and she was really committed to the sport but almost too into it, to the point that other parts of her life were suffering because of it."
IFTN: Crow leaps off the screen when you first see her. Before ever she opens her mouth you know she's going to be a big part of it. At what point did you focus on her, Bob and the others?
"It happened totally naturally. You said it yourself there, you saw it and I saw it, before ever she opened her mouth at that training session, I had to ask myself, 'Who is she?' Even the way she skates, she's putting all of herself into every single movement so it was on that very first day with Crow. It was the same with Bob and Kitty, who was the captain and Bob's girlfriend. I met Gemerald and Zola over the next few weeks leading up to the world cup.
"They just jump out at you. My instinct was to spend time with Crow, Bob, Zola and Kitty and the qualities they all have is that they were leaders. They were all making decisions that affected more than just themselves, they were all driven and they all wanted something. When a character wants something, that's the start of every film, and you follow them to see if they achieve it and get over the obstacles."
IFTN: It's interesting too that because the sport was in such an infant state when you started filming, one person could affect the entire graduation of the sport into the mainstream, in Ireland.
"Totally yeah and that's what interested me. I'm not a big sports fan and don't support any teams. It was the personalities. It was that group dynamic, that power and that leadership–that's what fascinated me. What is going to happen here? Because there were such strong characters that were very confident and sure of themselves, and not shy about letting people know when they disagreed with them. So the world cup was a good point to sit back and see how all that was going to play out."
IFTN: You waited until the very first match at the world cup to listen to Bob explaining the rules of the game. Was there an advantage there in documenting a relatively unknown sport in terms of creating dramatic tension?
"Absolutely! There have been a couple of roller derby films and they shout out, 'Roller Derby is x, y, z!' at the very start. We wanted to tell a story, not inform people of roller derby rules, but they needed to know it to understand what was going on. We tried a couple of different things in the edit. We had it in one of the first scenes initially but thought, 'No, let's not confuse the matter. Let's introduce people to the world and the characters and once they feel like they're settling and beginning to understand it, show them how it works with that first game where they win it and it's quite straightforward.'
"Myself and Andrew had a lot of scratching-our-heads moments about making that work but I think for me that was the best decision–introduce the world and the characters first so people don't feel like they're being told something, but it's actually part of the story."
IFTN: You've mentioned you wanted to bracket the film between two world cups. With teams in Dublin and Cork, and games elsewhere, so how did you structure your life around filming this?
"Jump when you're told to jump! [laughs] In terms of making documentaries it's not nine to five. It's a lot of getting a call, jumping in the car and throwing a camera in the back, just going and doing it. So that made up weekends and evenings. In Ireland Dublin would play games with other Irish teams but they'd also play a lot of European teams. There's not a defined season per se for roller derby in Ireland, in that there's not a specific tournament that Irish teams are part of. There are a few things they are trying to be part of which are for the top hundred or so teams in the world we'll say, but they're not quite there just yet."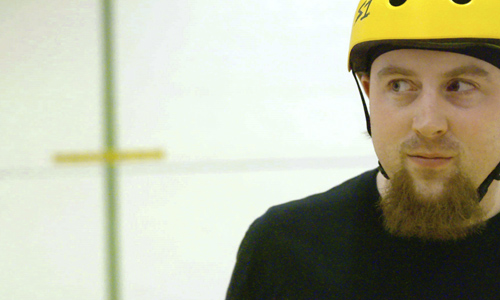 IFTN: There is such a change in people throughout those few years. How did your own opinion of the sport evolve as you were making the documentary?
"For me, my job was not to judge at all. People were arguing with each other and getting hurt feelings. I'd have someone sitting in front of me who would say, 'This really hurt me. I can't accept this because of x, y, and z.' Then you're talking to the other person who says the same thing. You just have to adopt a clean slate every time you walk in and just listen to whatever that person was going through. That's such a big part of it–it's all about listening to what they are saying and not judging."
IFTN: What are your thoughts on the social aspects of the film given that at the beginning many of these women are unemployed and using the sport to cope and busy themselves?
"That's was I was most interested in. When we discovered the characters within the team, what was going on in their lives and how they were interacting together–that's the story. Having people meet on a Tuesday and skate around is not a story. It was the other side of it, the feeling of being left on the scrap heap almost. These women formed businesses together and went on adventures. For instance one was a seamstress and another made websites so they'd work together. And when you're following that story, there's no resolution to it. It's very hard and at times it's not even about roller derby, it's about belonging, the community and feeling part of it.
"I started making the film just at the time when they were putting all of their energy into roller derby and everybody else was almost pushed out. They'd come quite far with the sport even at that early stage, but then they reached a point when they needed balance. It's like a utopia. Are you going to completely leave that other life that you had, or where is the pendulum going to stop? Are you prepared to let go?"
IFTN: It must be hard to let go of that almost pioneer status they achieved when, as you said, people like Crow are making a fiver here and a fiver there.
"Yes and to let go of that sense of importance, because they did achieve a lot. On the other hand you've got people like Zola who was changing the font on her CV when they came back from the world cup to try and get a job. They are just worlds apart and that's a tricky thing to balance in your life."
IFTN: 'Revolutions' was one of the first films to sell out at the 2016 Galway Film Fleadh. What was that experience like for everyone?
"It was so exciting! The first thing that we did was show Crow, Zola, Bob and Kitty. I sat them all down separately and watched the film with them. My nerves were shot! There are things in it for each of them where they're not having the best day. Trying to watch that is hard and I was so impressed with how they were able to say to themselves, 'Yes okay, I probably wasn't doing the right thing there but I can see you've shown I've changed...' and similar things like that. That was so difficult for me because I needed, throughout the film, to get them to trust me to film them when they were feeling let down, because when they're on top of things again, there's no story without the down bits.
"They trusted me enough to let me do that and it wasn't easy for them, so it was a big thing for me that they be happy with it. Because they were all on board and happy with it, Galway was like a celebration of that. Loads of roller derby people came and I was able to relax because my first priority was that the characters themselves have to like it, the roller derby community after that, and if anyone else did, that was a plus. In a way Galway was for roller derby people so now we're reaching out to that third set, which is the wider public and people with an interest in film."
'Revolutions' releases to Irish cinemas Friday, June 30th. A special screening and Q&A session with McGann and Zola is scheduled for 18:15 at the Irish Film Institute.