The man bringing 'Dancing with the Stars' to Ireland. ShinAwiL CEO Larry Bass, speaks to IFTN about his excitement ahead of the Irish version of the show which kicks off Sunday 8th January on RTÉ at 6.30pm.
Behind the glitz and glamour of the new 2 hour live show, produced for RTÉ by ShinAwiL is a large production team. Altogether between 120-150 people will be involved in the overall production and filming of the series each weekend from the Ardmore Film Factory in Ardmore studios located in Bray, Co. Wicklow.
IFTN: Are you expecting the show to receive a good response from the Irish audience?
Larry: "I think it's a fantastically brilliant show to bring to Ireland and I've wanted to bring it here for many many years. I think it's one of the few shows that the whole family can sit down and enjoy everything from the glamour of the show to the competition within it. It's been proved to be an exciting show by running for over 14 years in the UK, there have been 14 seasons. It's actually growing its audience and I'm delighted to be bringing it to Ireland.
"I think once Irish people get to see Irish celebrities taking on fairly intricate dancing, obviously with the help of professional dancers. It's amazing to watch these journeys unfold. We've been watching them unfold for many weeks in rehearsals and it will be fantastic to see it for real on Sunday nights."
"We start the show this Sunday with all the boys. We will see the girls in a big group dance and a girls only dance, but we only see the male half of the cast this week. Then next week we'll see the females do their individual dances and then they will all come together in week 3 and we plough on to week 12 until we get a winner.
"We've 2 hours to show everything and there's only a limited amount of time you can fit that action into. It'll be a packed show on week 3 that's for sure."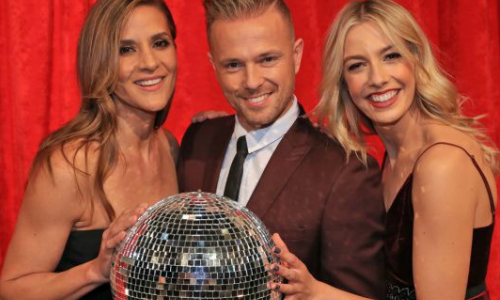 IFTN: So Larry, how did the show come to Ireland?
Larry: "Well I've been talking about this show for many many years with both the BBC and RTÉ and then eventually we got the opportunity to pitch it in a tender process when RTÉ were looking to replace 'The Voice' slot. So we pitched a couple of shows, one being for 'The Voice' to be retained and an alternative show 'Dancing with the Stars'.
"They decided to go with one more year of 'The Voice' and we did that last year which we were very happy with. Then I suppose they decided after a lot of debate internally within RTÉ to rest the voice and go with a new show and 'Dancing with the Stars' was the obvious choice to fill that void so that's been the process really."
IFTN: So RTÉ bought the rights for the BBC show?
Larry: "RTÉ bought the rights for the show and we are the production company (ShinAwil). It's been a long number of years in discussion and then followed by a tender process. It was a tender process in which we pitched the show it wasn't a tender process to find a producer for the show as we had already been in discussion with the BBC about the show for many years."
IFTN: What's the reason for the show being called 'Dancing with the Stars' and not 'Strictly Come Dancing'?
Larry: "When Richard Hopkins developed the original show in house in the BBC, the BBC decided selling the show outside of Britain that the best title for it would be a title that says what it does on the tin. This is a show featuring celebrities dancing so it's 'Dancing with the Stars'.
"In Britain you had a tradition for many generations of a series called 'Come Dancing'. "In 1992 'Strictly Ballroom' was a very successful Australian movie by Baz Luhrmann and the word 'Strictly' was added to come dancing to capture I suppose the wave of euphoria around the movie at that time and take an old format that was kind of a tired, non-prime time dance show and make it a big shiny floor prime time show.
"Outside of Britain people wouldn't really know what 'Come Dancing' meant so it has always been known as dancing with the stars in every country outside Britain and that's how they market it.
"We didn't have an option, it's just part of the format when you licence from the BBC that's the name of the show outside of Britain It's never called anything else."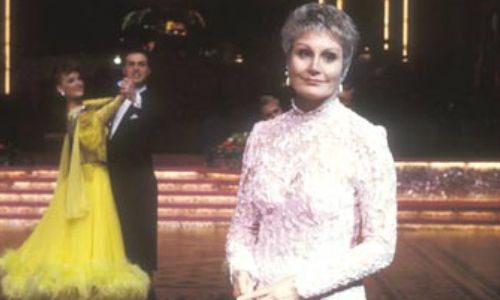 Angela Rippon as one of the presenters of 'Come Dancing' between 1988-1998
IFTN: What would be the budget for a show like this?
Larry: "The budget for any show is confidential, but it's a big budget."
IFTN: What size of a team do you have working on the show?
Larry: "I couldn't say the exact number of people because it's massive. We've been building the set since before Christmas. There's a huge construction team, there's a 270 degree video wall surrounding the whole set. The set itself, the dance floor is bigger than the BBC one.
"We had to build in an audience platform, and everything you can imagine going into a black box creating that type of show it's just a massive undertaking. The construction team be it from rigging, lighting and set construction would've been a team of around 40-50 people working full time for a number of weeks.
"There's a core production team of 25 people who have been working on the show since August. Then obviously whenever we get into show days and this weekend we introduce all the rest of the production team from sound, staging, costume, hair & make up. It will number around 120-150 people every weekend."
"There's also a big digital crew for the show. Every Sunday they'll be going live from Facebook at 4.45pm. There's always somebody shooting some part of it all the time."
IFTN: What is the Location & Filming schedule like for the show?
Larry: "It's a 2 hour live show every Sunday from 6.30 to 8.30 pm on RTÉ One running for 12 weeks. The main show is broadcast live from the film factory in Ardmore Studios every Sunday. There's a preview show every Friday at 8.30pm on RTÉ One called 'Can't Stop Dancing' fronted by Bláthnaid Treacy.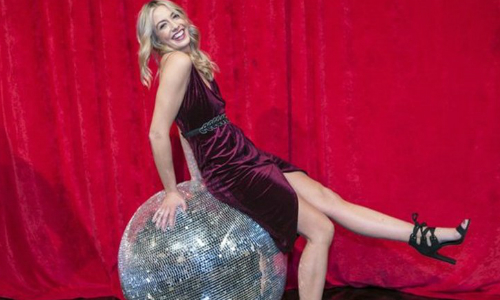 "'Can't Stop Dancing' starts tonight (Friday 6th January) and will give viewers a bit of a backstage look at preparations that are going into the show on Sunday. Then next week she'll do a bit of a recap on what happened and a preview of what will be happening next Sunday. So that will be for real fans of the show who can't get enough of it that's where the title comes from 'Can't Stop Dancing'. Between our rehearsal studios and the studio that secondary show in a way lives off the back of the main show."
IFTN: Who do you have working post production on the series?
Larry: "For 'Can't Stop Dancing' and all the VT's for the main show all the post work is being done by Piranha Bar and the outside broadcast is NEP formally known as Observe."
Production Company: ShinAwiL
Set Designer: Fiona Cunningham
Lighting Designer: Peter Canning
Show Director: Chris Power
Executive Producer: Larry Bass
Co-Executive Producer: Sheila Meaney
Head of Production is Eamonn Fox.
Post Production: Piranha Bar
Lighting Generators : Cine Electric
OB: NEP
The 11 'Dancing with the Stars' Celebrities putting their best foot forward include; Des Bishop, Des Cahill, Dayl Cronin, Katherine Lynch, Dr Eva Orsmond, Teresa Mannion, Thalia Heffernan, Hughie Maughan, Denise McCormack and Aoibhin Garrihy.
The 12-week series, which will be presented by Amanda Byram and Nicky Byrne, begins on RTÉ One at 6.30pm, Sunday, January 8.
Ahead of the series launch, you can watch Bláthnaid Treacy's behind-the-scene programme 'Can't Stop Dancing' on Friday 6th of January at 8:30 pm on RTÉ One.