Spider's Trap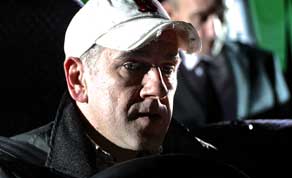 Feature Film
Completed
YEAR: 2014
DIRECTOR: Alan Walsh
WRITER:

PRODUCTION COMPANY: Blackhorse Film Productions Bootstrap Films Ltd

PRODUCER: Alan Walsh Cronan Creagh John Phelan (executive producer)

CAST: Simon Delaney Glen Baker Liam Carney Dermot McGuinness Tony Tormey Tommy O'Neill Alan Sherlock

LOCATION:

EDITOR: Mario Bortas
DOP: Matt Skinner
COSTUME DESIGN:
PRODUCTION DESIGN:
HAIR/MAKEUP:
SOUND: Ray Cross
MUSIC:

« Go back
Steve Wilson (Glen Baker), a former criminal with a talent for cracking safes, has finally got his chance to make things right. As he sits on the edge of a record deal, childhood friend and brutal manipulator Jack Spider (Alan Sherlock) delivers an ultimatum to drag Steve back to a life he left behind. Tense, fast-paced and frightening, the film delivers a fresh take on film noir.