Originally from Newry in Co. Down and only a year after graduating from her Masters at the National Film and Television School (NFTS), London, Brady has a number of achievements to her name, not least being named one of Screen Daily's UK Stars of Tomorrow in 2013.
She is a two-time IFTA winner, having won Best Short in 2011 for her first film 'Small Change', which screened at over 40 international film festivals including Sundance and Palm Springs. In 2013, she won her second IFTA for her short 'Morning', which was also selected for the BFI London Film Festival and won the Short Film Nominee prize for the European Film Awards at the Cork Film Festival.
Cathy made her first break into TV directing when she was selected for Channel 4's 'Coming Up', for which she made the BIFA-nominated 'Rough Skin'. She explains the series and her role in it, saying "Channel 4 put emerging writers and emerging writers together to make a half-hour long stand-alone episode for TV. So that was where I got my initial wave of interest in the industry, and I did it while I was studying for my Masters course at the NFTS. The fact that I had made an episode of TV before helped me get 'Glue'."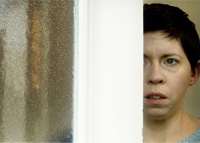 'Morning'
'Glue', which is currently in production, is the highly-anticipated new series for E4, joining 'My Big Fat Diary' and 'Youngers' on the channel's slate of brand-new original drama. The crime drama series follows what happens in a village that produces horses after a teenager is found dead under a tractor and the village inhabitants, his friends, are forced to witness their secrets come out during an investigation into his death.
Brady describes the series to IFTN: "I think it's a really bold, edgy, thriller-drama series for E4. It's incredibly cinematic in my mind. The script from Jack Thorne and the rest of the writers has just been really bold and honest. It offers something that I don't think people have seen on E4 before, and I think it's because of the cinematic scale of it as well as how nuanced the actual dialogue is as well."
She explains how she got the job: "I heard the project was in development about a year ago. So I'd been chasing my agent for a while to see if I could get an interview and stayed on top of it. Then my first meeting was in the summer, and just before Christmas I had a meeting for the next stage. Then I got word that I got it. It's fantastic, because there are three directors in the series and the other two have a lot of experience, whereas for me this will be, in a way, my first big launch in the industry. I'm a new talent coming through."
Brady will be directing the sixth episode of the 8x60" series, which will be written by executive writer Jack Thorne, best-known for 'This is England' and 'Skins'. Brady says, "I think TV's a really exciting place to be right now in terms of scale, so it can only be a good thing to get as much TV work under my belt as possible." She is due to commence prep for the episode in two weeks, will shoot for two weeks and then has three weeks to finish post-production: "In terms of schedule and budget, it's an incredibly tight turnaround for TV. You need to be sharp as a director."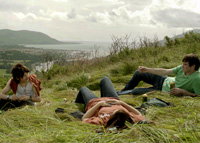 'Wasted'
We asked Cathy about her experience and what advice she would give to aspiring directors: "I think studying at the NFTS boosted my profile for coming out as a director, because I've been out for about a year now. Coming from the NFTS also made it easier for me to find an agent, and truth be told, I think you have to have an agent to be put forward for work as a TV director.
"My advice would be to make bold choices in your own work, shorts, features or whatever. I think, for me, I did a series of shorts and with each short I'd try to do something different in terms of scripts and improvisation. I feel like with each short I've developed what my voice is as a director. Having a body of work also helps for getting professional work. I'm still starting off myself though!"
She is currently in development for her debut feature with Element Pictures ('The Guard', 'Frank') and has another feature film lined up.
The Irish Film Institute (IFI) will be presenting a full programme of her short film work ('Small Change', 'Morning' and latest short 'Wasted') followed by a Q&A with Cathy Brady herself. See more information here.
See trailers for 'Small Change' and 'Wasted' below: